The Los Angeles Lakers' storied franchise history is littered with amazing draft picks who could make this list, but these next five guys are the greatest of the great. Here's our list of The 5 Best Draft Picks In Los Angeles Lakers History.
5. Vern Mikkelson
Mikkelson doesn't get enough credit when it comes to the annals of NBA history, but he's one of the best frontcourt forces to play the game. A first rounder in the 1949 draft, Mikkelson was a key cog in four Lakers championships and was the no-nonsense on-court leader for the majority of his career (he is the NBA leader in personal fouls throughout a career). A bulldog of a player and a true underrated gem.
4. James Worthy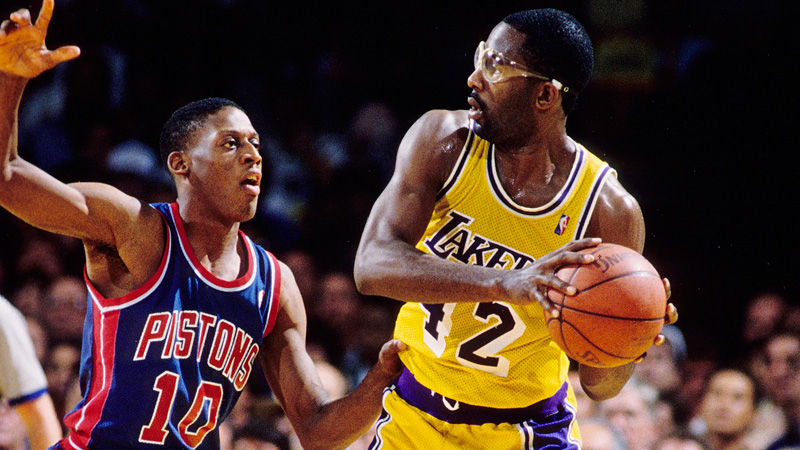 One of the greatest clutch scorers to ever put on a Lakers uniform, Worthy's tag team with our #1 entrant was the lifeblood of the "Showtime" era. A two-way force who never seemed to take a moment off, Worthy shot over 50% during his playoff career and revolutionized the small forward position en route to his enshrinement in the Hall of Fame.
3. Elgin Baylor
Baylor retired right before the Lakers rolled off their legendary 33-game win streak and brought home an NBA title, but that doesn't detract from the eye-popping resume he built for himself. Averaging 27.4 points and 13.5 rebounds over the course of his Hall of Fame career, Baylor joins Karl Malone and Charles Barkley on the Mount Rushmore of players who never won an NBA championship.
2. Jerry West
He's the freaking NBA logo. That warrants inclusion on its own accord. Arguably the greatest pure scorers in league history behind Michael Jordan, West was a one-time NBA champion, one-time Finals MVP, 14-time All-Star and one-time scoring champion. West did his work all over the court from the perimeter to the paint, and his unflappable focus in clutch situations still resonates. We haven't even mentioned his all-world defense which landed him four All-NBA Defensive First Team nominations. The definition of a legend.
1. Magic Johnson
The greatest point guard of all time, hands down. The #1 pick of the 1979 NBA Draft, no player in the history of this game made his teammates better than Magic. The heartbeat of five Lakers championships, Magic was a freakish athletic specimen at the point who used his height, length, and strength to eradicate opposing backcourt and frontcourt forces. Add in his lockdown defense and low pulse in the clutch, and it's just plain truth that you can't talk NBA history without mentioning his name.
Follow our Los Angeles Lakers team page for the latest Lakers news!
Back to the Los Angeles Lakers Newsfeed