All of us Los Angeles Lakers fans are looking forward to July's free agency period as a potential game-changer, but franchises are made and success his sustained throught the NBA Draft. One of these next three guys, paired with whoever the Lakers land in free agency, could lift the Lakers back into the playoffs for the first time since 2012-13.
Here's our list of 3 NBA Draft Prospects That Could Make The Lakers A Playoff Team Next Season.
Karl-Anthony Towns - Kentucky
His offensive game has a very high ceiling, but Towns' biggest impact as a first-year player with the Lakers would be his pure dominance in the paint on the defensive end. Slash and kick guards go to die when they try to charge Towns in the paint, and his combination of soft hands on the board and amazing length while boxing out would help eliminate some of the second and third chances that have killed the Lakers as of late. He's got all the tools and the Staples Center would be a darn good place to learn how to use them.
Jahlil Okafor - Duke
Okafor is one of the most advanced low-post scorers to hit college basketball in the past couple decades, and his massive 6-foot-11, 270-pound frame is perfect to take and give punishment on both sides of the floor. His efficiency under the rim is unreal, and his length and evolving moveset means that he'll be double teamed more often than not at the NBA level. That would open up a ton of looks for the Lakers' shooters from the mid-range on out, allowing Los Angeles to spread the floor and kill opponents from all angles.
Emmanuel Mudiay - Guangdong (International)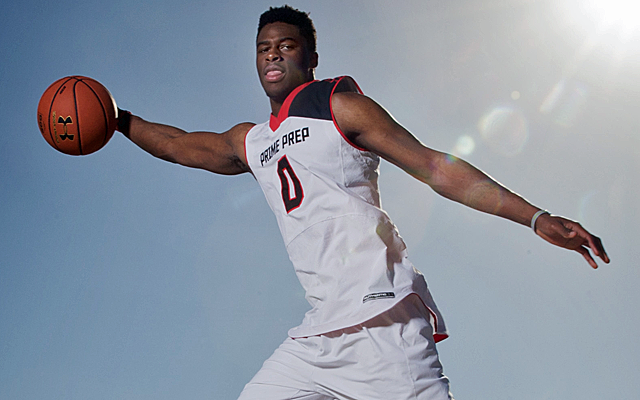 Pairing another big in the frontcourt with Julius Randle is extremely tempting, but Mudiay's gifts as a slash and kick point guard make him a perfect fit for the Lakers' offense both in the short term and in the longview. Mudiay would have no problem deferring to Kobe Bryant or any other offensive weapon the team acquires, and he's the exact type of pure point player who can open up shots for Jordan Clarkson (shifting him over to a straight shooting guard) and take some of the load off of his shoulders.
Add in the fact that Mudiay is already a double-plus defender with great length and otherworldly ball instincts, and you have a small window into just how much life he could breathe into the Lakers as a whole.
Follow our Los Angeles Lakers team page for the latest Lakers rumors!
Back to the Los Angeles Lakers Newsfeed