The NFL Draft is a fickle process. It's not easy to separate first-round busts from late-round gems, but some teams have proven to be better at scouting than others. The San Diego Chargers are one of those teams that seem to have the process figured out. Here are their last 10 first-round picks, and where they are now:
2006 - Antonio Cromartie, CB, Florida State - Pick #19
Cromartie was extremely successful during his stint with the Chargers, racking up 15 interceptions from 2006-2009 (even though he didn't start until halfway through his rookie season), after which he was traded to the New York Jets. He then spent four mildly successful years with the Jets, signed a one-year deal with the Cardinals in 2014, and then returned to the Jets with a four-year deal he signed prior to the 2015 season.
Overall, Cromartie has made the Pro Bowl four times and was a first-team All-Pro selection in 2007.
2007 - Craig Davis, WR, LSU - Pick #30
Davis played in 14 games during his rookie year, including one start, but only played in four games in 2008 due to injury. He never found the field much after that and was released by the Chargers following the 2010 season. Buffalo signed him to a training camp deal in 2011, where he was promptly cut one month later. Davis has been out of the league since
2008 - Antoine Cason, DB, Arizona - Pick #27
Cason had a failry successful stint in San Diego, playing all 16 games in each of this five seasons with the Chargers. He finally earned a starting job in his thrid season, but San Diego let him walk in free agency after that, where he signed a one-year deal with the Arizona Cardinals. He signed another one-year deal with the Carolina Panthers in 2014, but struggled late in the year and was waived after 12 games. Cason finished the year with the Ravens, but hasn't played since while recovering from right foot surgery. He's currently a free agent.
2009 - Larry English, LB, Northern Illinois - Pick #16
English's San Diego career was marred by injury and inconsistent play as he missed 21 games while recording just six total sacks from 2011-2013. He has spent the last two years in a backup role with the Tampa Bay Buccaneers.
2010 - Ryan Mathews, RB, Fresno State - Pick #12
Mathews was drafted to replace LaDainian Tomlinson in San Diego's backfield and played well - when he was healthy. Mathews played all 16 games just once in his five years with San Diego, who decided to let him leave in free agency following a 2014 season in which he played in just six games. He signed a three-year deal with the Philadelphia Eagles prior to the 2015 season and backed up DeMarco Murray.
2011 - Corey Liuget, DT, Illinois - Pick #18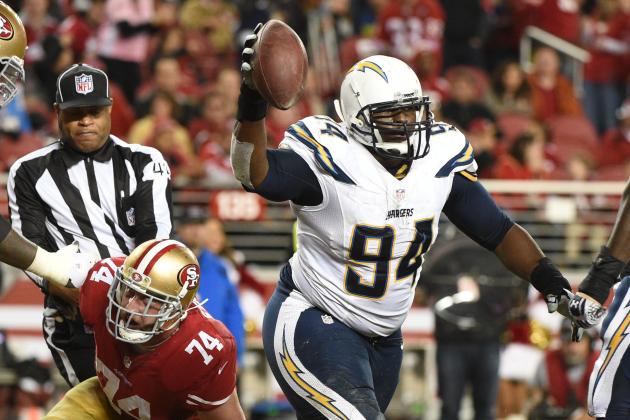 Liuget has started in all but two games in his career and has been a key cog in San Diego's defense since he was drafted. He signed a five-year, $50 million extension with the team prior to the 2015 season.
2012 - Melvin Ingram, DE, South Carolina - Pick #18
Ingram has made the transition from defensive end to 3-4 outside linebacker in San Diego with a bit of success, but injuring limited him to just 13 combined games from 2013-2014. That said, Ingram did have a huge breakout year in 2015, recording 65 tackles and 10.5 sacks.
2013 - D.J. Fluker, OL, Alabama - Pick #11
Fluker has been a consistent starter at various positions along the line for the Chargers, starting every game in each of the last two seasons.
2014 - Jason Verrett, CB, TCU - Pick #25
Verrett is one of the best young corners in the league, emerging as a starter this year after playing in just six games in his rookie season. He made his first career Pro Bowl in 2015 after racking up 47 tackles, 12 passes defensed, and three interceptions.
2015 - Melvin Gordon, RB, Wisconsin - Pick #15
Gordon was drafted with the expectation of him being the Chargers' next featured back after they let Mathews walk. He had mild success in his rookie year, accumulating 641 yards on 184 carries and 192 receiving yards, but did not record a touchdown.
Back to the Los Angeles Chargers Newsfeed
Related Topics: Corey Liuget, Ryan Mathews, Melvin Gordon, Antoine Cason, Craig Davis, D.J. Fluker, Jason Verrett, NFL News, Chargers News, Melvin Ingram, Antonio Cromartie, Larry English, NFL Draft