The San Diego Chargers fell just short of joining the postseason party last go-around, but all the pieces are in line for the Bolts to make a huge playoff push this coming season. Here are four reasons why the Chargers will return to the postseason this year: 
1) Philip Rivers
Chargers management has expressed optimism that they'll be able to get a contract extension done and relatively soon, but either way the Bolts will have one of the unsung elite NFL quarterbacks in their corner for 2015. Rivers' competitiveness makes all of his skill-position weapons better. You're never far out of a game with him under center, and in this QB-focused league, that's HUGE.
2) A Revamped Running Game
Ryan Mathews is a heck of a talent, but the injury bug kept him from truly living up to his potential with San Diego. Danny Woodhead, Donald Brown and Branden Oliver are still around, but the brightest spotlight in the backfield will be on dynamic first-round pick Melvin Gordon. He's was a truly transcendent force in college and all indications point to his unique skill set translating to the pro game. If and when that happens, the Bolts will have one of the most varied and talented running back corps in the league.
3) A Faster, Younger And More Athletic Defense
Drafting Gordon was huge, but the true story of the Bolts' 2015 NFL Draft was their dedication to pure speed on defense. Linebacker Denzel Perryman (2nd round), cornerback Craig Mager (3rd), edge-rusher Kyle Emanuel (5th), and defensive tackle Darius Philon (6th) all ran 40-yard dashes at the NFL Combine under five seconds. This is a part of San Diego's master plan to infuse its defense with an unstoppable mixture of fresh (and fast) legs and unquestionable athleticism. That, combined with the men already in two, will reap major dividends for the team in 2015.
4) Weaker AFC West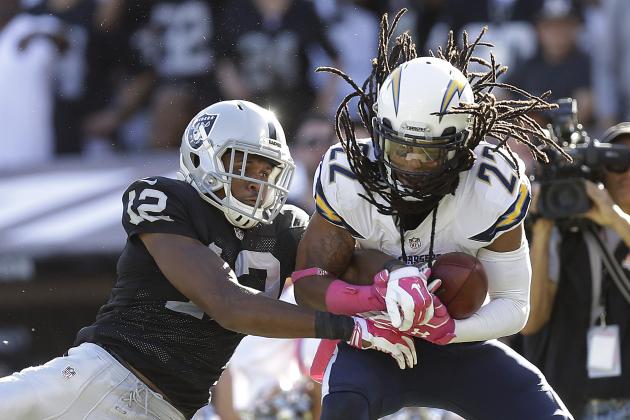 Many think the Broncos have already peaked and will start their downslide this season, while the Chiefs still haven't completed a touchdown pass to a receiver since 2013 and the Raiders are the Raiders. The wins are certainly there for the taking for the Chargers.
Follow our San Diego Chargers team page for the latest Chargers news and rumors!
Back to the Los Angeles Chargers Newsfeed
Related Topics: San Diego Chargers, NFL Playoffs, NFL, Chargers Rumors