The Angels have been fighting an uphill battle all year against the Oakland A's. The A's have controlled the best record in baseball for what seems like forever, and with the trade deadline moves they made, they don't seem willing to let that go.
The Angels currently own the second-best record in baseball, and are only a couple of games away from overtaking the A's for the top spot. Do the Angels have what it takes to finish the season strong and claim the AL West?
The short answer - yes.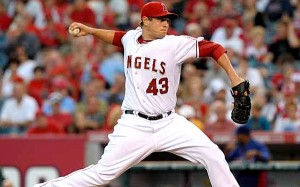 Garrett Richards has been the hottest pitcher in baseball not named Clayton Kershaw for the past few months. Richards has become the ace of the staff, and is quickly becoming a top-5 pitcher in all of baseball. If he continues to progress, the entire league better be on notice.
Mike Trout is being Mike Trout even during a minor slump. The kid just does everything he can to lead the Halos to victory - there honestly hasn't been such a dominant all around player since Ken Griffey Jr. in the '90s.
If the Angels are to overtake the A's in the AL West, the role players will need to continue to play a huge part. Guys like Kole Calhoun, CJ Cron, Colin Cowgill and Matt Shoemaker have what it takes to make the difference - they're the heart and soul of the club.
The good news for the Halos is that they have nine more games against the A's. The bad news is that six of those take place in Oakland. Oakland leads the series so far this season with six wins and three losses, but most of those games were before the Angels really found themselves.
What's so different about the Angels this year as compared to the past two seasons? Health. The Angels have struggled through big injuries the past few seasons, and that's negatively impacted their play. This season, apart from Josh Hamilton, there haven't been any major injuries.
As we come down the stretch, look for the Angels to continue their push for the best record in baseball. They have the best player in the game and one of the hottest starting pitchers, and Oakland's offense has started to stutter in recent weeks. Winning 100 games is not out of the question for the Angels, but 95 wins should give them the best record in baseball and the AL West crown.

Back to the Los Angeles Angels Newsfeed