The NFL Draft is a fickle process. It's not always easy to separate first-round busts from late-round gems, but some teams have proven to be better at scouting and developing players than others. The Oakland Raiders missed on several picks, including the one everybody remembers. However, they've turned things around in recent years. With that in mind, here are the Raiders' last 10 first round draft picks and where they are now:
2004 - OT Robert Gallery, Iowa Hawkeyes (Pick #2)
This was supposed to end up being a great selection. Gallery was well-regarded entering the draft. However, that ended up not being the case. He struggled at tackle, although was able to find some success as a guard. Although he lasted eight years in the NFL and seven with the Raiders, he's considered a bust. 
2005 - CB Fabian Washington, Nebraska Cornhuskers (Pick #23)
The speedy corner never developed into the player the Raiders hoped he would. He lasted just three seasons with Oakland, before the Raiders dealt him to the Ravens for a fourth rounder. He played three seasons for Baltimore and is now out of the league. 
2006 - S Michael Huff, Texas Longhorns (Pick #7) 
Huff had his moments, like an All-Pro season in 2010. However, he never quite developed into a superstar safety. He was good, but not great. Given some of the other busts on this list, this one seems like a solid pick. 
2007 - QB JaMarcus Russell, LSU Tigers (Pick #1)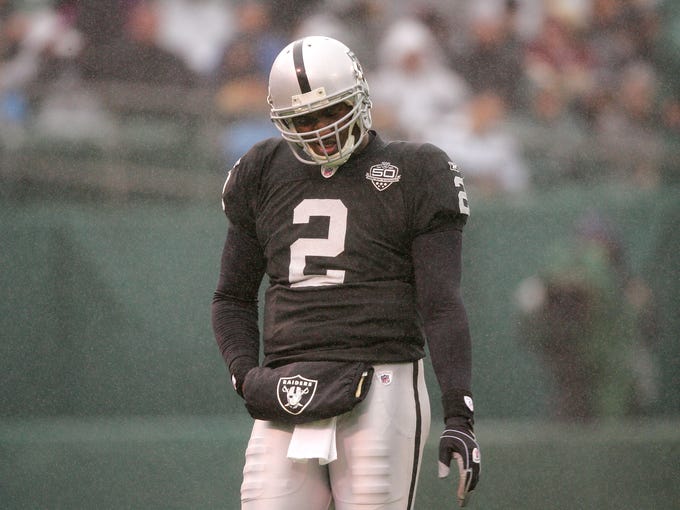 Russell, quite literally, ate himself out of the NFL. He didn't care at all and ballooned to 300-pounds at one point. He's arguably the biggest bust in NFL history. He played just three seasons, an absurdly short time for a No. 1 overall pick. 
2008 - RB Darren McFadden, Arkansas Razorbacks (Pick #4) 
When healthy, McFadden has been pretty good. Unfortunately, McFadden has never been able to start all 16 games in a season. His injury problems prevented him from becoming a great RB. He's still found some success, including this year when he ran for over 1,000 yards with the Cowboys. For more on McFadden, download the Chat Sports Android and iPhone app. 
2009 - WR Darrius Heyward-Bey, Maryland Terrapins (Pick #7)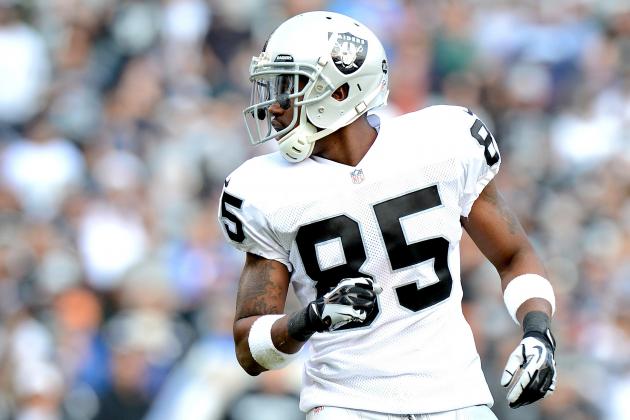 This is the height (rock-bottom?) of Al Davis' obsession with speed. Heyward-Bey was a first round prospect, but he was a late-first round prospect. The Raiders took him instead of WRs like Jeremy Maclin and Michael Crabtree. Heyward-Bey is a one-trick WR, only valuable when running deep routes. It was a disaster of a pick, but at least the Raiders now have Crabtree. DHB is currently on the Steelers, serving as an occasional deep threat. 
2010 - LB Rolando McClain, Alabama Crimson Tide (Pick #8)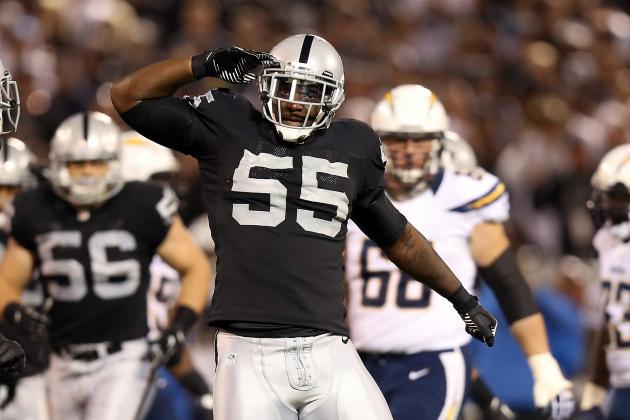 McClain has had an odd NFL path. He had off-the-field troubles that led him to retire after the 2012 NFL season. He wasn't that great for the Raiders, but he's played fairly well since joining the Cowboys for the 2014 season. McClain was a bust pick for the Raiders because he didn't contribute much to the team, but he's developed into a solid NFL starter. 
2013 - CB D.J. Hayden, Houston Cougars (Pick #12) 
After two years without a first round pick, which hurt the team badly, the Raiders and GM Reggie McKenzie traded down and took Hayden. He hasn't quite lived up to the expectations place on him, but he improved this year as the season went along. That Hayden is even in the NFL is incredible, given that he nearly died a few years ago. Download the Chat Sports Android and iPhone app for more on Hayden. 
2014 - LB Khalil Mack, Buffalo Bulls (Pick #5)
It's already clear that this draft was great as a whole. While QB Derek Carr has the makings of a franchise QB, Mack is already among the best defensive players in the NFL. He's a disruptive force that also happens to be great against the run and strong in coverage. There's a reason he was the first player to ever be named to the AP All-Pro team at two different positions (LB and DE). The Chat Sports Android and iPhone app has more on Mack and the Raiders' 2014 draft class. 
2015 - WR Amari Cooper, Alabama Crimson Tide (Pick #4)
Cooper still has some work to do, mostly with his drops, but he has the makings of a No. 1 WR. He, Crabtree and Carr should find success through the air for several years to come. Another year of development should only make the rookie Pro Bowler even more deadly. For all the Raiders news and rumors you need, download the Chat Sports Android and iPhone app. 
Back to the Las Vegas Raiders Newsfeed
Related Topics: Darren McFadden, Khalil Mack, Darrius Heyward-Bey, Jamarcus Russell, D.J. Hayden, Amari Cooper, Rolando McClain, Raiders News, NFL Draft