Top 10 WRs The Oakland Raiders Could Sign In 2019 NFL Free Agency Or Trade For This Offseason from Chat Sports can be watched ABOVE and below!
What are the latest Raiders trade rumors? Also who are the players the Raiders are targeting in free agency? The Raiders biggest need this offseason on the offense is adding wide receivers around Derek Carr. So host Mitchell Renz broke down 10 wide receivers the Raiders could target in free agency or trade for this offseason. Will the Raiders sign Golden Tate, Tyrell Williams Robby Anderson, Michael Crabtree, Adam Humphries, or John Brown? Could the Raiders make a trade for Antonio Brown, A.J. Green, John Ross, or Nelson Agholor? Also important note, this video was filmed before the Jets gave Robby Anderson a second-year round tender.
Are you a die-hard Raiders' fan? If so, SUBSCRIBE to Raiders Report on YouTube breaking down the latest Raiders news and rumors!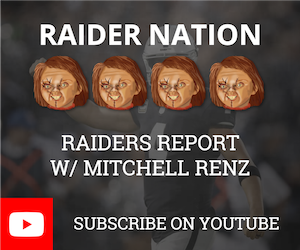 Interact with our host Mitchell Renz (@MitchellRenz365 on Twitter) & (@MitchellRenz365 on Instagram) to discuss the latest Raiders news and rumors!
The video above (and shown below) is from the Raiders Report, a Facebook Live show. All of these videos can be found on Raiders Report on YouTube
Top Raiders Wide Receiver Targets In 2019:
#10 Adam Humphries (Restricted Free Agent)
#9 John Brown (Free Agent)
#8 Michael Crabtree (Free Agent)
#7 Nelson Agholor
#6 John Ross 
#5 Tyrell Williams (Free Agent)
#4 Robby Anderson (Restricted Free Agent)
#3 Golden Tate (Free Agent)
#2 A.J. Green
#1 Antonio Brown 
Crave more Raiders Rumors Videos? Don't worry Raider Nation we got you covered! Watch every Raiders Rumor video on our Oakland Raiders' YouTube Playlist - Raiders Rumors!
FOLLOW: Mitchell Renz is the Senior Writer & On-Air Host at Chat Sports. Check out his article archive and live videos on Chat Sports Facebook page. Please follow him on Twitter @MitchellRenz365. 
Back to the Las Vegas Raiders Newsfeed
Related Topics: Bengals Trade Rumors, Michael Crabtree Raiders, Raiders free agent targets 2019, Oakland Raiders Free Agency Rumors, Nelson Agholor trade rumors, raiders wide receiver targets, raiders trade targets 2019, free agent wr taregts, Antonio Brown Raiders, Raiders Trade Rumors, Raiders WR targets