Raiders Rumors: Signing Michael Crabtree, Marshawn Lynch News, Johnathan Hankins To Broncos from Chat Spports can be watched above and below!
The latest Raiders rumors and news are around Michael Crabtree, Marshawn Lynch, Johnathan Hankins, Mike Mayock, Stephen Jones. Will the Raiders target Crabtree in free agency? With the Raiders playing in Oakland in 2019, does that mean Beast Mode is returning? Some Broncos rumors are around Denver signing Johnathan Hankins. Find out what Stephen Jones said about the Amari Cooper trade. What does Mike Mayock think of the Scouting Combine?
Are you a die-hard Raiders' fan? If so, SUBSCRIBE to Raiders Report on YouTube breaking down the latest Raiders news and rumors!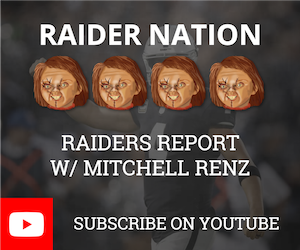 Interact with our host Mitchell Renz (@MitchellRenz365 on Twitter) & (@MitchellRenz365 on Instagram) to discuss the latest Raiders news and rumors!
The video above (and shown below) is from the Raiders Report, a Facebook Live show. All of these videos can be found on Raiders Report on YouTube
Here are the Oakland Raiders Rumors covered today:
Raiders Staying In Oakland
Marshawn Lynch Coming Back?
Mike Mayock doesn't like the Combine?
Raiders Interested In Michael Crabtree?
Cowboys VP Stephen Jones Rips Raiders?
Johnathan Hankins Signing With Broncos?
Crave more Raiders Rumors Videos? Don't worry Raider Nation we got you covered! Watch every Raiders Rumor video on our Oakland Raiders' YouTube Playlist - Raiders Rumors!
FOLLOW: Mitchell Renz is the Senior Writer & On-Air Host at Chat Sports. Check out his article archive and live videos on Chat Sports Facebook page. Please follow him on Twitter @MitchellRenz365. 
Back to the Las Vegas Raiders Newsfeed
Related Topics: Michael Crabtree Raiders, Oakland Raiders Trade Rumors, Marshawn Lynch, Raiders Rumors, Oakland Raiders Free Agent Rumors, Raiders Trade Rumors, Raiders Free Agent Rumors, Oakland Raiders Rumors