Raiders Rumors: Oakland Super Team, Antonio Brown Trade, Drafting Kyler Murray And Signing Le'Veon Bell from Chat Sports can be watched ABOVE or below!
The latest Oakland Raiders rumors are around an Antonio Brown Trade, drafting Kyler Murray and signing Le'Veon Bell or Landon Collins! Could the Raiders find a way to form a new triplets of Antonio Brown, Le'Veon Bell and Kyler Murray? Or what about signing Landon Collins? And speaking of free agency, will the Raiders miss out on two big running backs in Tevin Coleman or Le'Veon Bell? The Raiders are set to own the offseason with money to spend in free agency and a ton of NFL Draft capital.
Are you a die-hard Raiders' fan? If so, SUBSCRIBE to Raiders Report on YouTube breaking down the latest Raiders news and rumors!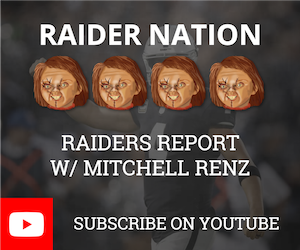 Interact with our host Mitchell Renz (@MitchellRenz365 on Twitter) & (@MitchellRenz365 on Instagram) to discuss the latest Raiders news and rumors!
The video above (and shown below) is from the Raiders Report, a Facebook Live show. All of these videos can be found on Raiders Report on YouTube
Today's Oakland Raiders Rumors:
- Raiders Won't Get Le'Veon?
- Tevin Coleman to Jets?
- Antonio Brown to Raiders is likely?
- Raiders love Kyler Murray?
- Raiders Forming Super Team?
- Landon Collins to Raiders?
Crave more Raiders Rumors Videos? Don't worry Raider Nation we got you covered! Watch every Raiders Rumor video on our Oakland Raiders' YouTube Playlist - Raiders Rumors!
FOLLOW: Mitchell Renz is the Senior Writer & On-Air Host at Chat Sports. Check out his article archive and live videos on Chat Sports Facebook page. Please follow him on Twitter @MitchellRenz365. 
Back to the Las Vegas Raiders Newsfeed
Related Topics: raiders super team, Oakland Raider news, Raiders Draft Rumors, Raiders Free Agency Rumors, Jon Gruden Rumors, Raiders Rumors, Raiders Trade Rumors, Landon Collins raiders, Kyler Murray Raiders, Oakland Raiders, Le'Veon Bell raiders, Raiders News, Antonio Brown Raiders, Oakland Raiders Rumors