Raiders rumors are starting to be more geared toward the 2019 NFL Draft since it's less than a month away. Raiders head coach Jon Gruden spoke with the media on Tuesday and addressed many Raiders draft and free agency rumors. Gruden stated that Derek Carr is the Raiders QB in 2019 despite Oakland meeting with the top two quarterbacks in the 2019 NFL Draft, Heisman winner Kyler Murray and Ohio State's Dwayne Haskins. Plus Gruden states he wants a three-down back that is versatile and can pass protect. Does that mean the trade rumors around Bears running back Jordan Howard aren't true? Does this mean Gruden and Mike Mayock are targeting a running back in the NFL Draft like Alabama's Josh Jacobs in round 1? 
IN THE VIDEO ABOVE: All these questions will be answered by Chat Sports' Mitchell Renz on the Raiders Report.
Raiders draft rumors have picked back up a bit thanks to several comments from Gruden and the private meeting the Raiders have with Haskins and Murray next week. Plus Chat Sports' NFL Draft expert Tom Downey had Oakland selecting Murray at pick #4 in his latest Mock Draft. 
Are you a die-hard Raiders' fan? If so, SUBSCRIBE to Raiders Report on YouTube breaking down the latest Raiders news and rumors!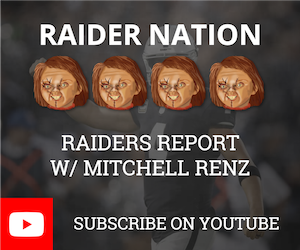 Interact with our host Mitchell Renz (@MitchellRenz365 on Twitter) & (@MitchellRenz365 on Instagram) to discuss the latest Raiders news and rumors!
The video above (and shown below) is from the Raiders Report, a Facebook Live show. All of these videos can be found on Raiders Report on YouTube
The Raiders Report is presented by BetDSI - the #1 sports book on the internet! We have an exclusive offer just for YOU -- head to http://www.chatsports.com/BET and use PROMO code RAIDERS120 to get a 120% deposit bonus! That's up to $600 FREE to bet on NFL Draft props, March Madness games, NBA Playoffs and the 2019 MLB season
FOLLOW: Mitchell Renz is the Senior Writer & On-Air Host at Chat Sports. Check out his article archive and live videos on Chat Sports Facebook page. Please follow him on Twitter @MitchellRenz365. 
Back to the Las Vegas Raiders Newsfeed
Related Topics: raiders draft 2019, Derek Carr rumors, Latest Raiders Rumors, josh jacobs, Raiders Draft Rumors, Derek Carr, Raiders Rumors, Raiders Trade Rumors, Oakland Raiders draft rumors, Jordan Howard, Dwayne Haskins, Kyler Murray, Raiders Free Agency Rumors, Jon Gruden, Oakland Raiders Rumors