Raiders free agency rumors continue to be the talk in Oakland because Raider Nation wants to know if Jon Gruden and Mike Mayock plan on signing a free agent that plays defense. One of the Oakland Raiders biggest needs in 2019 NFL Free Agency is finding a linebacker. The Raiders have had several visitors including Vontaze Burfict, Manti Te'o and Brandon Marshall. Are the Raiders going to sign a defensive player before the 2019 NFL Draft? 
IN THE VIDEO ABOVE: All these questions will be answered by Chat Sports' Mitchell Renz on the Raiders Report.
Raiders rumors have been buzzing this entire offseason around 2019 and the bright future ahead. The Raiders have three first round draft picks in large part to the Khalil Mack trade. Did the Raiders or the Bears win the Khalil Mack trade, find out what Mitchell thinks!
Are you a die-hard Raiders' fan? If so, SUBSCRIBE to Raiders Report on YouTube breaking down the latest Raiders news and rumors!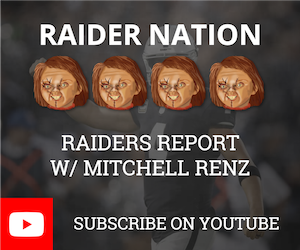 Interact with our host Mitchell Renz (@MitchellRenz365 on Twitter) & (@MitchellRenz365 on Instagram) to discuss the latest Raiders news and rumors!
The video above (and shown below) is from the Raiders Report, a Facebook Live show. All of these videos can be found on Raiders Report on YouTube
The latest Oakland Raiders Rumors & News:
Raiders interested in Free Agent linebacker Brandon Marshall?
Raiders Want Free Agent linebacker Manti Te'o?
Free Agent linebacker Aaron Lynch will be a Raider?
Free Agent defensive end Cassius Marsh will be a Raider?
Free Agent linebacker Vontaze Burfict good for Raiders?
Raiders won the Khalil Mack trade with the Bears?
The Raiders Report is presented by BetDSI - the #1 sports book on the internet! We have an exclusive offer just for YOU -- head to chatsports.com/bet and use PROMO code RAIDERS120 to get a 120% deposit bonus! That's up to $600 FREE to bet on NFL Draft props, March Madness games, NBA Playoffs and the 2019 MLB season
FOLLOW: Mitchell Renz is the Senior Writer & On-Air Host at Chat Sports. Check out his article archive and live videos on Chat Sports Facebook page. Please follow him on Twitter @MitchellRenz365. 
Back to the Las Vegas Raiders Newsfeed
Related Topics: Vontaze Burfict, Manti Te'o, Raiders, Raiders News, Raiders Rumors, Aaron Lynch, Raiders Trade Rumors, Cassius Marsh, Raiders Free Agent Targets, Raiders Free Agency Rumors, raiders free agency, Oakland Raiders Rumors