NFL Free Agency kicks off in a few days for the Oakland Raiders, and all NFL teams of course and we look at the top 15 NFL free agents in 2019 and whether the Raiders should pursue or avoid signing them. NFL free agency rumors are about explode and next week should be oiut of control with news of players signing huge contracts, and host Mitchell Renz is here to keep you informed on all the Raiders rumors this offseason.
The Raiders Report is presented by BetDSI - the #1 sports book on the internet! We have an exclusive offer just for YOU -- head to http://www.chatsports.com/BET and use PROMO code RAIDERS120 to get a 120% deposit bonus! That's up to $600 FREE to bet on NFL Draft props, March Madness games, NBA Playoffs and the 2019 MLB season
Jon Gruden and Mike Mayock are preparing to get Oakland a winning season in 2019 - their first together as head coach and GM of the Raiders. The Raiders have just one winning season in the last 16 years...could signing some big name NFL free agents on defense like safety Landon Collins or Earl Thomas help? Should the Raiders try to fill the void left behind by Khalil Mack and target Patriots defensive end Trey Flowers or perhaps Ravens linebacker C.J. Mosley? Raiders Report host Mitchell Renz from Chat Sports breaks down the top 15 NFL free agents on defense the Raiders should either target or avoid in 2019 free agency.
The Raiders have 33 free agents and need to re-stock their defense and build around the players they drafted in 2018 & the players Oakland will draft in 2019. The Raiders biggest needs on defense are defensive end, linebacker, safety, and cornerback so how will Gruden & Mayock attack their first ever offseason? Could they target players with high ceilings like linebacker Kwon Alexander or former pro bowl safety Haha Clinton-Dix? Or will they target a big name veteran like defensive tackle Ndamukong Suh? Raider Nation find a seat, turn up the Raiders Report and get ready for a legendary 2019 offseason.
Are you a die-hard Raiders' fan? If so, SUBSCRIBE to Raiders Report on YouTube breaking down the latest Raiders news and rumors!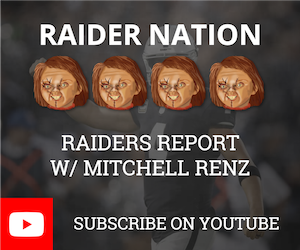 Interact with our host Mitchell Renz (@MitchellRenz365 on Twitter) & (@MitchellRenz365 on Instagram) to discuss the latest Raiders news and rumors!
The video above (and shown below) is from the Raiders Report, a Facebook Live show. All of these videos can be found on Raiders Report on YouTube
Top 15 NFL Free Agents in 2019 On Defense:
#15 Kwon Alexander (LB, Bucs)
#14 Ha Ha Clinton-Dix (S, Redskins)
#13 Bryce Callahan (CB, Bears)
#12 Preston Smith (LB, Redskins)
#11 Sheldon Richardson (DT, Vikings)
#10 K.J. Wright (LB, Seahawks)
#9 Adrian Amos (S, Bears)
#8 Ndamukong Suh (DT, Rams)
#7 LaMarcus Joyner  (S, Rams)
#6 Anthony Barr (LB, Vikings)
#5 Tyrann Mathieu (S, Texans)
#4 C.J. Mosley (LB, Ravens)
#3 Trey Flowers (DE, Patriots)
#2 Earl Thomas (S, Seahawks)
#1 Landon Collins (S, Giants)
Back to the Las Vegas Raiders Newsfeed
Related Topics: NFL Free Agent Rumors, Bryce Callahan, Sheldon Richardson, Ha Ha Clinton-Dix, Adrian Amos, Trey Flowers, Tyrann Mathieu, Anthony Barr, Kwon Alexander, Raiders free agency 2019, Raiders Free Agency Rumors, NFL Free Agency, K.J. Wright, Ndamukong Suh, Earl Thomas, LaMarcus Joyner, oakland raiders free agency, oakland raiders free agent targets, Oakland raiders free agent targets 2019, Oakland Raiders Free Agent Rumors, Preston Smith, Landon Collins, Raiders free agency targets, raiders free agency, C.J. Mosley