Raiders draft rumors are starting to heat up after an electric 2019 free agency. One of the Raiders biggest needs on offense is tight end since Jared Cook is likely going to sign with the New Orleans Saints, could Mike Mayock and Jon Gruden target Iowa tight end Noah Fant? Will the Raiders draft Montez Sweat after report came out about his heart condition? Does Jon Gruden love Drew Lock enough to draft him in the first round? 
IN THE VIDEO ABOVE: All these questions will be answered by Chat Sports' Mitchell Renz on the Raiders Report.
Raiders rumors have been a little quiet recently after trading for Antonio Brown, signing Trent Brown, Lamarcus Joyner, and Tyrell Williams. The Raiders did add some QB depth this past week by adding Mike Glennon and added some secondary talent with Curtis Riley.
Are you a die-hard Raiders' fan? If so, SUBSCRIBE to Raiders Report on YouTube breaking down the latest Raiders news and rumors!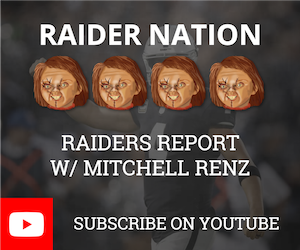 Interact with our host Mitchell Renz (@MitchellRenz365 on Twitter) & (@MitchellRenz365 on Instagram) to discuss the latest Raiders news and rumors!
The latest Oakland Raiders Rumors & News:
Raiders Sign Mike Glennon
Curtis Riley Signs With Oakland
Jared Cook To Saints?
Raiders targeting Noah Fant?
Raiders Still Interested In Sweat?
Drew Lock to the Raiders?
The Raiders Report is presented by BetDSI - the #1 sports book on the internet! We have an exclusive offer just for YOU -- head to chatsports.com/bet and use PROMO code RAIDERS120 to get a 120% deposit bonus! That's up to $600 FREE to bet on NFL Draft props, March Madness games, NBA Playoffs and the 2019 MLB season
FOLLOW: Mitchell Renz is the Senior Writer & On-Air Host at Chat Sports. Check out his article archive and live videos on Chat Sports Facebook page. Please follow him on Twitter @MitchellRenz365. 
Back to the Las Vegas Raiders Newsfeed
Related Topics: oakland raiders 2019 nfl draft rumors, raiders 2019 draft news, Raiders Draft Rumors, Noah Fant, Raiders Rumors, montez sweat, Drew Lock, Oakland Raiders draft rumors, Raiders Draft News, Mike Mayock, Jon Gruden, Oakland Raiders Rumors