Raiders Draft Rumors: 10 Players Oakland Should Target In The 1st Round Of The 2019 NFL Draft is from Chat Sports and can be watched ABOVE & below!
The latest Oakland Raiders draft rumors circulating through Oakland are around the 2019 NFL Draft and who Jon Gruden & first year GM Mike Mayock are targeting in the first round. The Raiders have the 4th, 24th, and 27th overall pick in the draft plus another 7 picks in rounds 2-7. The hype around the Raiders draft is creating a bunch of NFL rumors on whether or not the Raiders will draft QB Kyler Murray or possibly trade up or even trade down to get more first round picks. Will the Raiders select Nick Bosa, Josh Allen, Quinnen Williams or Devin White at pick 4? Could the Raiders go after a defensive end like Montez Sweat or Brian Burns? Will the Raiders look to build around Derek Carr by drafting wide receiver D.K. Metcalf or tight end Noah Fant? Who will the Raiders target with their later two picks? Perhaps linebacker Devin Bush or wide receiver Hakeem Butler. Find out on the Raiders Report!
Are you a die-hard Raiders' fan? If so, SUBSCRIBE to Raiders Report on YouTube breaking down the latest Raiders news and rumors!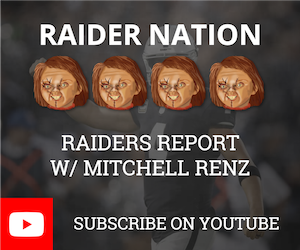 Interact with our host Mitchell Renz (@MitchellRenz365 on Twitter) & (@MitchellRenz365 on Instagram) to discuss the latest Raiders news and rumors!
The video above (and shown below) is from the Raiders Report, a Facebook Live show. All of these videos can be found on Raiders Report on YouTube
Raiders 1st Round Draft Targets:
Nick Bosa (EDGE, OSU)
Josh Allen (EDGE, UK)
Quinnen Williams (DT, Alabama)
Devin White (LB, LSU)
D.K. Metcalf (WR, Ole Miss)
Noah Fant (TE, Iowa)
Brian Burns (EDGE, FSU)
Montez Sweat (EDGE, Mississippi St.)
Devin Bush (LB, Michigan)
Hakeem Butler (WR, Iowa State)
Crave more Raiders 2019 Draft Videos? Don't worry Raider Nation we got you covered! Watch every Raiders 2019 Draft video on our Oakland Raiders' YouTube Playlist - Raiders 2019 NFL Draft!
FOLLOW: Mitchell Renz is the Senior Writer & On-Air Host at Chat Sports. Check out his article archive and live videos on Chat Sports Facebook page. Please follow him on Twitter @MitchellRenz365. 
Back to the Las Vegas Raiders Newsfeed
Related Topics: raiders draft 2019, raiders first round 2019, raiders 2019 draft board, Latest Raiders Rumors, Raiders Draft Rumors, Raiders Rumors, Raiders 2019 Draft Rumors, Oakland Raiders Draft news, Oakland Raiders draft rumors, raiders draft picks 2019, Oakland Raiders Rumors, Oakland Raiders draft targets