The Oakland Raiders finished with a 7-9 record this season, their best mark since 2011. The future looks bright in Oakland and the Raiders should be feeling good about their prospects next year - and they should. Here are three reasons why the Raiders won't just make the playoffs next season, but will win the AFC West:
3) Derek Carr's breakout season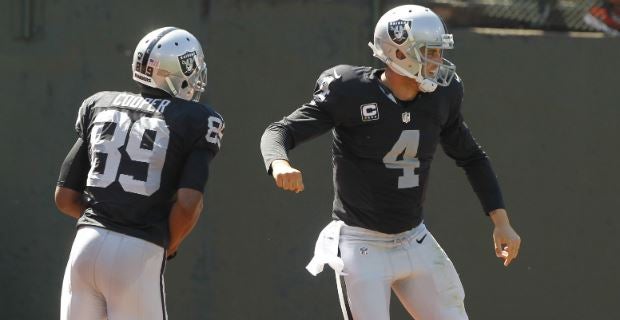 Carr built on an outstanding rookie season with a Pro Bowl year in 2015, passing for nearly 4,000 yards and 32 touchdowns. He showed a firm grasp of head coach Jack Del Rio's system, and the combination of Amari Cooper and Michael Crabtree give him the ability to take chances - chances that are often rewarded with big plays. As that duo (specifically Cooper) continue to grow, so will Carr. 
Would you be willing to be against Carr approaching 4,500 passing yards and 40 touchdowns next season? His unreal arm strength, accuracy and growing understanding of NFL defenses are set to make him a superstar.
2) Struggles from division rivals
A big reason why Oakland could be favored to win the division is because of how everyone else in the division has taken a step back. The Denver Broncos lost several players in free agency from their Super Bowl team, and there's a good chance they'll miss the playoffs if they end up starting Mark Sanchez under center. The Chargers are still a long way off, and the Chiefs captured lightning in a bottle last year - they don't have the overall talent to win 10 games again in 2016.
The division is as wide open as ever, making it the perfect storm for the Raiders to win the division for the first time since 2002.
1) Continued improvement from young core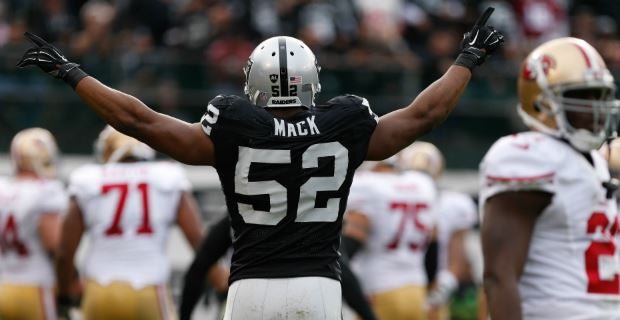 The Raiders are a young team, and they battled through inconsistency and growing pains at times last season. That was to be expected, but 2016 is the year that the Raiders take the next step. We've already touched on Carr, and his weapons in Michael Crabtree, Amari Cooper and Latavius Murray will only improve next season - not to mention superstar linebacker Khalil Mack. The Raiders are far from a perfect team, but if they continue to improve and add a few players in key areas, they should be in the playoffs for the first time since 2002.
Back to the Las Vegas Raiders Newsfeed
Related Topics: Khalil Mack, Derek Carr, NFL News, Latavius Murray, Amari Cooper, Raiders News