Oakland Raiders Rumors: Sign Le'Veon Bell, Ronald Darby, Ezekiel Ansah In Free Agency, OBJ Trade BS from Chat Sports can be watched in the video ABOVE & below!
Today host Mitchell Renz breaks down the Oakland Raiders rumors around Le'Veon Bell, Odell Beckham Jr., Ezekiel Ansah, Demaryius Thomas, Ronald Darby, and where the Raiders will play 2019. Will the Raiders sign free agent RB Le'Veon Bell to a 5 year deal with $50 million like ESPN predicted? Will the Raiders sign DE Ezekiel Ansah? Could the Raiders target the top CB in the NFL free agent market? Will the Raiders try and trade for Giants WR Odell Beckham Jr.? What are the chances the Raiders sign WR Demaryius Thomas who was just released by the Texans? Is there a very real chance the Raiders play in Oakland in 2019?
Are you a die-hard Raiders' fan? If so, SUBSCRIBE to Raiders Report on YouTube breaking down the latest Raiders news and rumors!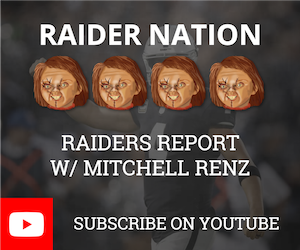 Interact with our host Mitchell Renz (@MitchellRenz365 on Twitter) & (@MitchellRenz365 on Instagram) to discuss the latest Raiders news and rumors!
The video above (and shown below) is from the Raiders Report, a Facebook Live show. All of these videos can be found on Raiders Report on YouTube
Here are the Raiders Rumors covered today:
Should Raiders Target Thomas?
Raiders Playing In Oakland?
Targeting Darby In Free Agency?
Raiders trading for OBJ?
Le'Veon Bell to the Raiders?
Ezekiel Ansah to Raiders?
Crave more Raiders Rumors Videos? Don't worry Raider Nation we got you covered! Watch every Raiders Rumor video on our Oakland Raiders' YouTube Playlist - Raiders Rumors!
FOLLOW: Mitchell Renz is the Senior Writer & On-Air Host at Chat Sports. Check out his article archive and live videos on Chat Sports Facebook page. Please follow him on Twitter @MitchellRenz365. 
Back to the Las Vegas Raiders Newsfeed
Related Topics: OBJ RAiders, Ezekiel Ansah Raiders, Latest Raiders Rumors, Oakland Raiders Trade Rumors, Raiders News, Raiders Rumors, oakland raiders 2019, Oakland Raiders, Demaryius Thomas Raiders, Oakland Raiders News, Le'Veon Bell raiders, oakland raiders free agency, Raiders 2019 free agency, Raiders Trade Rumors, Raiders Free Agency Rumors, Odell beckham Jr Raiders, Oakland Raiders Rumors, Ronald Darby Raiders