Oakland Raiders needs for the 2019 NFL Draft have drastically changed since free agency when Jon Gruden and Mike Mayock retooled the Raiders offense. However the defense still has some big holes that need to be filled which is leaving Raider Nation wondering what are the biggest Raiders needs in the eyes of Jon Gruden & Mike Mayock. What is the Raiders biggest draft need and when will they address it? All these questions will be answered by Chat Sports's Mitchell Renz on the Raiders Report.
Are you a die-hard Raiders' fan? If so, SUBSCRIBE to Raiders Report on YouTube breaking down the latest Raiders news and rumors by CLICKING the button below!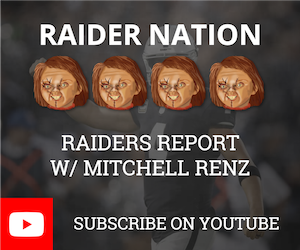 Interact with our host Mitchell Renz (@MitchellRenz365 on Twitter) & (@MitchellRenz365 on Instagram) to discuss the latest Raiders news and rumors!
Raiders were ranked dead last in the NFL in sacks with only 13, so is defensive end the teams biggest need? Or is it tight end since Jared Cook is now with the Saints and Cook has been Carr's top target the last two season? Could the Raiders biggest need be running back with questions around Chris Warren, Jalen Richard and Isaiah Crowell? Oakland allowed 52 sacks in 2018 so maybe they need to upgrade at guard to protect Carr? The Raiders have Gareon Conley but need someone opposite of him, is corner the Raiders biggest need?
The video above (and shown below) is from the Raiders Report, a Facebook Live show. All of these videos can be found on Raiders Report on YouTube
Raiders 2019 Draft Needs:
#1 Defensive End
#2 Tight End
#3 Running Back
#4 Offensive Guard
#5 Cornerback
The Raiders Report is presented by BetDSI - the #1 sports book on the internet! We have an exclusive offer just for YOU -- head to http://www.chatsports.com/BET and use PROMO code RAIDERS120 to get a 120% deposit bonus! That's up to $600 FREE to bet on NFL Draft props, March Madness games, NBA Playoffs and the 2019 MLB season
FOLLOW: Mitchell Renz is the Senior Writer & On-Air Host at Chat Sports. Check out his article archive and live videos on Chat Sports Facebook page. Please follow him on Twitter @MitchellRenz365. 
Back to the Las Vegas Raiders Newsfeed
Related Topics: raiders draft needs 2019, Oakland Raiders 2019 Draft, Oakland Raiders draft needs 2019, Raiders 2019 draft picks, Oakland Raiders Draft news, Oakland Raiders News, Jon Gruden Rumors, Raiders Rumors, Oakland Raiders needs, Raiders 2019 Draft Rumors, Raiders needs 2019, Oakland Raiders draft rumors, Oakland Raiders needs 2019, Mike Mayock Rumors, Oakland Raiders draft needs, Raiders Needs, raiders 2019 draft, Mike Mayock, Raiders Draft Needs, Jon Gruden