Oakland Raiders: Latest 7 Round 2019 Mock Draft, Filling Team Needs On Defense & Offense is from Chat Sports and can be watched ABOVE and below!
Today's episode of the Oakland Raiders Report host Mitchell Renz breaks down his first seven Raiders Mock Draft. The Oakland Raiders have 10 picks in total with three in the first round and six in the top 100. Who will the Raiders take at pick 4? Will it be Josh Allen, Quinnen Williams or Nick Bosa? Will the Raiders take Marquise Brown in round 1 of the 2019 draft? Nasir Adderley to the Raiders in the first round? Which LB is better Mack Wilson or Devin Bush? Will the Raiders draft Memphis running back Darrell Henderson? The last five picks in the mock draft are Christian Miller from Alabama, Jimmy Moreland from James Madison, Hunter Renfrow from Clemson, Martez Ivery from Florida and Drue Tranquill from Notre Dame. Grade Mitchell's Raiders mock draft!
Are you a die-hard Raiders' fan? If so, SUBSCRIBE to Raiders Report on YouTube breaking down the latest Raiders news and rumors!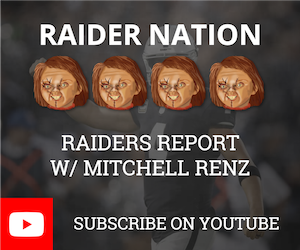 Interact with our host Mitchell Renz (@MitchellRenz365 on Twitter) & (@MitchellRenz365 on Instagram) to discuss the latest Raiders news and rumors!
The video above (and shown below) is from the Raiders Report, a Facebook Live show. All of these videos can be found on Raiders Report on YouTube
Raiders 7 Round Mock Draft
RD1 Pick:  #4 Quinnen Williams (DT, Alabama)
RD1 Pick:  #24 Marquise Brown (WR, Oklahoma)
RD1 Pick:  #27 Nasir Adderley (S, Delaware)
RD2 Pick:  #35 Devin Bush (LB, Michigan)
RD3 Pick:  #66 Darrell Henderson (RB, Memphis)
RD4 Pick:  #100 Christian Miller (DE, Alabama)
RD5 Pick:  #131 Jimmy Moreland (CB, James Madison)
RD6 Pick:  #184 Hunter Renfrow (WR, Clemson)
RD7 Pick:  #196 Martez Ivey (G, Florida)
RD7 Pick:  #213 Drue Tranquill (LB, Notre Dame)
Crave more Raiders 2019 Draft Videos? Don't worry Raider Nation we got you covered! Watch every Raiders 2019 Draft video on our Oakland Raiders' YouTube Playlist - Raiders 2019 NFL Draft!
FOLLOW: Mitchell Renz is the Senior Writer & On-Air Host at Chat Sports. Check out his article archive and live videos on Chat Sports Facebook page. Please follow him on Twitter @MitchellRenz365. 
Back to the Las Vegas Raiders Newsfeed
Related Topics: Latest Raiders News, Raiders mock draft, NASIR ADDERLEY, oakland raiders 2019, Raiders 2019 Draft Rumors, Oakland Raiders 7 round mock draft, devin bush, Oakland Raiders draft rumors, Oakland Raiders Rumors, Oakland Raider news, CHRISTIAN MILLER, Quinnen Williams, JIMMY MORELAND, Oakland Raiders 2019 Draft, Hunter Renfrow, MARTEZ IVEY, Raiders 2019 draft picks, DRUE TRANQUILL, Oakland Raiders Mock Draft, Marquise Brown, Oakland Raiders, Darrell Henderson