Raiders Rumors: Jon Gruden loves quarterbacks and the latest Raiders draft rumors are around Oakland drafting Missouri QB Drew Lock in the 1st round of the 2019 NFL Draft. One source close to Chat Sports says Gruden loves Lock and wants to draft him in round 1. Ed Oliver visited with the Raiders on Friday, how did his meeting go and is Mike Mayock considering drafting him at #4? Did Gruden say the Raiders need five cornerbacks due to injury concerns around Gareon Conley and others. The New York Jets released their new uniforms then rumors started swirling that the Oakland Raiders would change their uniforms, tuck rule tuck that? All these questions will be answered by Chat Sports's Mitchell Renz on the Raiders Report.
Are you a die-hard Raiders' fan? If so, SUBSCRIBE to Raiders Report on YouTube breaking down the latest Raiders news and rumors by CLICKING the button below!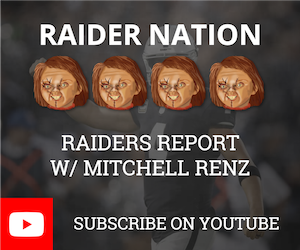 Interact with our host Mitchell Renz (@MitchellRenz365 on Twitter) & (@MitchellRenz365 on Instagram) to discuss the latest Raiders news and rumors!
Raiders draft rumors have been the main focus of late, but Oakland made some free agency moves on Friday adding Alex Barrett and Jordan Richard. How likely will both of these players make the Raiders final 53-man roster? 
The video above (and shown below) is from the Raiders Report, a Facebook Live show. All of these videos can be found on Raiders Report on YouTube
The latest Oakland Raiders Rumors & News:
Alex Barrett Will Make Raiders' 53-man roster?
Jordan Richards Make Raiders' 53-man roster?
Raiders Changing Uniforms In 2019?
Raiders Interested In Houston DT Ed Oliver?
Jon Gruden Wants Another CB?
Raiders Drafting Missouri QB Drew Lock In Round 1?
The Raiders Report is presented by BetDSI - the #1 sports book on the internet! We have an exclusive offer just for YOU -- head to http://www.chatsports.com/BET and use PROMO code RAIDERS120 to get a 120% deposit bonus! That's up to $600 FREE to bet on NFL Draft props, March Madness games, NBA Playoffs and the 2019 MLB season
FOLLOW: Mitchell Renz is the Senior Writer & On-Air Host at Chat Sports. Check out his article archive and live videos on Chat Sports Facebook page. Please follow him on Twitter @MitchellRenz365. 
Back to the Las Vegas Raiders Newsfeed
Related Topics: Oakland Raiders 2019 Draft, oakland raiders 2019 draft picks, Raiders, Oakland Raiders, Jon Gruden Rumors, Raiders Rumors, oakland raiders 2019, Raiders Draft Rumors, Oakland Raiders draft rumors, Oakland Raider news, Ed Oliver Raiders, Drew Lock Raiders, Jon Gruden, Oakland Raiders Rumors