The Oakland Raiders are the most storied franchise in the entire NFL, and as such, boast several of the best players in NFL history. Current stars Derek Carr and Khalil Mack project to be on this list in a few years, but they have a long way to go to reach the accomplishments of the best players in franchise history. Here are the 10 greatest players that have ever won the Raiders uniform:
10) DB Charles Woodson Call this some recency bias, but Woodson belongs on this list. In fact, that only reason he's not higher is because because of his stint with the Packers and lack of postseason success with the Raiders. Still, he was a nine-time Pro Bowler and four-time first team All-Pro. His 65 career interceptions also rank fifth all time in NFL history.
9) QB Jim Plunkett
Plunkett only played for the Raiders from 1979-1986, but led Oakland to two Super Bowl victories and ranks fourth in franchise history with 12,665 yards.
8) WR Fred Biletnikoff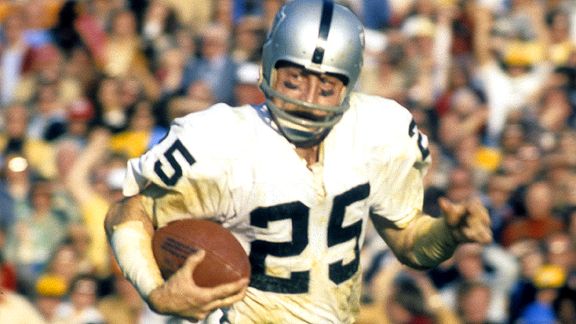 Biletnikoff played all of his 14 career seasons for the Raiders, winning one Super Bowl, one Super Bowl MVP and was a six-time Pro Bowler. Even though he played in a run-dominant era, he had 10 consecutive seasons of over 500 yards receiving - which was a miraculous accomplishment in the 1960's and 70's.
7) DE Howie Long
Long is easily the best defensive lineman in franchise history, ranking up 84 career sacks in his 13-year career, all of which he played for the Raiders. That number becomes even more impressive when you consider that sacks didn't become an official statistic until after his rookie season. Inducted into the Hall of Fame in 2000, Long won Super Bowl XVIII and is a member of the 1980s All-Decade Team.
6) C Jim Otto
Otto is one of the more recognizable Raiders players of the 1960's, starting every game at center for 15 consecutive years (210 regular season, 308 overall starts). He also was a nine-time AFL All-Star and three-time Pro Bowler.
5) LT Art Shell
Shell was drafted by the Raiders in the third round of the 1968 draft, and was one of the best offensive linemen in the league for his entire 15-year career, winning two Super Bowls and going to the Pro Bowl eight times.
4) RB Marcus Allen
Allen's dispute with Al Davis ultimately led to him finishing his career with the Chiefs, but he provided many highlights during his 11 years with the Raiders. He rushed for 8,545 yards and 79 touchdowns during his time with the team, including an eye-popping 1,759 yards and 11 touchdowns in 1985. Allen finished his career as a six-time Pro Bowler, two-time first-team All-Pro and Super Bowl XVIII MVP.
3) QB Ken Stabler
Stabler is the franchise's career leader with 19,078 passing yards and 150 touchdowns, so his spot on the list is more than deserved. He led Oakland to a win in Super Bowl XI and posted a 69-26-1 career record as a starter.
2) LG Gene Upshaw
Upshaw was the starting left guard from his rookie season on, starting 207 straight games for the Raiders. He won two Super Bowls and was a three-time first team All-Pro, but his achievement is being the first full-time offensive guard to be enshrined into the Hall of Fame.
1) WR Tim Brown
The man known as "Mr. Raider" has to be No. 1 on this list, right? Brown had inconsistent quarterback play throughout his entire career, but he still found a way to put up incredible stats. A member of the 1990's All-Decade team, he had nine consecutive 1,000-yard seasons from 1993-2001, was a nine-time Pro Bowler and two-time first team All-Pro. He was inducted into the Hall of Fame in 2015.
Follow our Oakland Raiders news page for all the latest Raiders news!
Back to the Las Vegas Raiders Newsfeed
Related Topics: Raiders News, NFL News