Oakland Raiders Rumors: Antonio Brown trade - will the Raiders pull off a blockbuster deal? find out in the video above and below!
The rumors on Brown to the Raiders have hit a fever-pitch, and all indications are that coach Jon Gruden and Raiders GM Mike Mayock are going to land the Steelers superstar WR in the coming days. Raiders Report host Mitchell Renz gets you up to speed on everything happening right now with the Antonio Brown trade rumors as well as news on Derek Carr, Le'Veon Bell, Jalen Richard, and a rumored Raiders super team.
Derek Carr - does he want the Raiders to trade for Antonio Brown?  Also - will the Raiders sign free agent RB Le'Veon Bell after re-signing Jalen Richard? Brown, Carr, and Bell updates are the 3 MEGA Raiders rumors that lead the show, plus everything else you need to know about the Oakland Raiders.
The Raiders Report is presented by BetDSI - the #1 sports book on the internet! We have an exclusive offer just for YOU -- head to http://www.chatsports.com/BET and use PROMO code RAIDERS120 to get a 120% deposit bonus! That's up to $600 FREE to bet on NFL Draft props, March Madness games, NBA Playoffs and the 2019 MLB season
Antonio Brown trade is the first domino in the Raiders forming a "Super Team". Raiders rumors were circulating that Jon Gruden wanted to form a Super Team with Heisman winner Kyler Murray, Steelers wide receiver Antonio Brown, and Steelers running back Le'Veon Bell. What are the chances this team happens? Also some Raiders news around Raiders' free agents. The Raiders tendered several restricted free agents, with cornerback Daryl Worley and running back Jalen Richard getting 2nd-round tenders and safety Erik Harris getting the low tender. How will this impact Mike Mayock & Jon Gruden's decisions in the 2019 NFL Draft & Free Agency?
Are you a die-hard Raiders' fan? If so, SUBSCRIBE to Raiders Report on YouTube breaking down the latest Raiders news and rumors!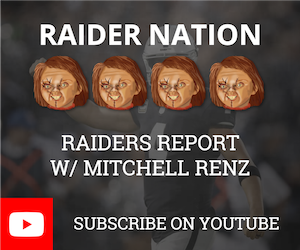 Interact with our host Mitchell Renz (@MitchellRenz365 on Twitter) & (@MitchellRenz365 on Instagram) to discuss the latest Raiders news and rumors!
The video above (and shown below) is from the Raiders Report, a Facebook Live show. All of these videos can be found on Raiders Report on YouTube
Today's Oakland Raiders Rumors Are: 
Antonio Brown Trade Coming?
Antonio Brown To Raiders?
Derek Carr Wants AB?
Raiders Forming Super Team?
Le'Veon Bell headed to Oakland?
Oakland Tenders Three Players?
Crave more Raiders Rumors Videos? Don't worry Raider Nation we got you covered! Watch every Raiders Rumor video on our Oakland Raiders' YouTube Playlist - Raiders Rumors!
FOLLOW: Mitchell Renz is the Senior Writer & On-Air Host at Chat Sports. Check out his article archive and live videos on Chat Sports Facebook page. Please follow him on Twitter @MitchellRenz365. 
Back to the Las Vegas Raiders Newsfeed
Related Topics: Steelers Rumors, NFL Rumors, Raiders Rumors, Steelers Trade Rumors, Antonio Brown, NFL News, Antonio Brown trade, Oakland Raiders, Oakland Raiders News, Oakland Raiders Trade Rumors, NFL Trade Rumors, Antonio Brown Raiders, Raiders Trade Rumors, Raiders News, steelers trade news, Oakland Raiders Rumors