The Oakland Raiders have been linked to several draft targets over the past few months, but Alabama WR Amari Cooper has been the most frequent name mentioned. ESPN's Mel Kiper is one of a growing number of draft analysts predicting the Raiders will take Cooper with the 4th overall pick, and his latest mock draft is no different from his first one: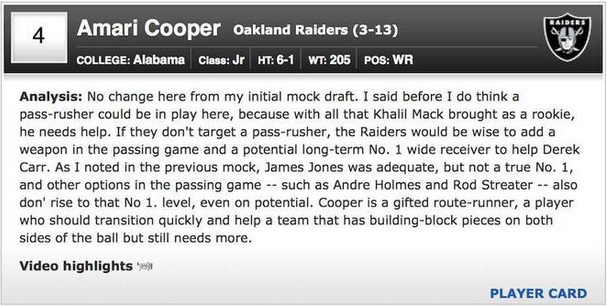 The Raiders' ideal scenario has Leonard Williams somehow slipping to them at #4, but no one in the Raiders organization is holding their breath. While there's a growing chance Williams drops out of the top two, there's little hope the Jacksonville Jaguars will pass on him at #3. While another pass rusher like Randy Gregory or Shane Ray is an option, the Raiders would be wise to take Cooper and give Derek Carr his first real weapon on offense. Carr put up solid rookie numbers despite a lack of help on offense, and if the Raiders want to show progress in 2015, getting him a real #1 receiver is a vital first step.
Reggie McKenzie did an excellent job in Oakland's 2014 draft, landing Kahlil Mack in the first round and Derek Carr in the second. If he can replicate that success in 2015, the Raiders' rebuilding effort will finally be underway after a decade of false starts.
Back to the Las Vegas Raiders Newsfeed