The Oakland Raiders missed the playoffs last season, but this is a team on the rise. Expectations are higher than they've ever been in years, but the Raiders need a few players to have breakout seasons to reach the postseason. 
Each year, teams expect players to step up and play key roles. Sometimes, the player in question makes the leap from backup to role player, or even to starter. Sometimes, a player goes from role player to key starter or borderline star. So which players are the Raiders counting on this year to step up? We've put together three of the most likely candidates below.
3. DE Mario Edwards
Edwards' second year and career was threatened by a neck injury, but he's been cleared medically. That's a good thing for the Raiders, because they are banking on him to help replace the retire Justin Tuck. While Tuck missed much of last season and Edwards started 10 games, it's different this year. The Raiders are a bit thin at DE outside of Edwards and Khalil Mack, so Edwards needs to prove he can be the man at DE. He showed promise last year, but even more is expected of him in 2016. 
2. QB Derek Carr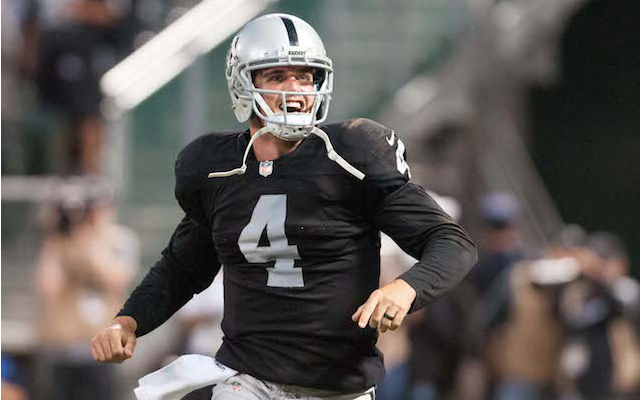 Carr took a step forward last year, and now it's time for him to take another leap. He completed 61.1 percent of his passes for 32 TDs and 13 picks last year. Carr looks like a franchise QB, but he needs to cement himself as one. The Raiders have playoff expectations this year, and if they come up short, the blame will likely fall on the shoulders of Carr. That's a lot of pressure, but if Carr can become an elite QB, the Raiders are going to be dangerous. 
1. LB Ben Heeney
The Raiders have basically handed the staring MLB job to Heeney. A fifth round pick last year, Heeney showed some ability, but the Raiders are banking on a big season. Oakland has little behind Heeney and they'll need him to step up. Heeney has a knack for finding the ball, although he's undersized and lacks ideal athleticism. If he fails, the Raiders' defense might not take the step forward many are expecting. 
Back to the Las Vegas Raiders Newsfeed
Related Topics: Ben Heeney, Derek Carr, Raiders Rumors, Raiders News, Mario Edwards