The Oakland Raiders hold the No. 14 overall pick in the first round of the NFL Draft. Oakland didn't make the playoffs, but the team is building the right way and they could very well make the playoffs this year. The Raiders added some impressive talent this offseason and they can take the best player on their board instead of reaching for a particular positon. However, drafting a bust could prevent the Raiders from taking the next step in 2016. 
Here are three players the Raiders need to avoid in the first round:
3. Jaylon Smith, LB, Notre Dame
Smith has loads of talent, and the idea of pairing him with Khalil Mack is a terrifying one for opposing offenses. However, that was before Notre Dame's bowl game this season. Unfortunately, Smith's knee injury in that game is severe. Medical checks at the Combine indicated that Smith has nerve damage, which kills his draft stock. While Smith has Patrick Willis-type ability and a healthy Smith could have gone in the Top 5, his knee injury means that Raiders can't pull the trigger in round one. Smith will drop on draft day because of that knee injury, and shouldn't be taken until Day 2. 
2. Eli Apple, CB, Ohio State
The Raiders added Sean Smith, but could still use some corner help. While there could be a corner worth taking at No. 14, it's not Eli Apple. He's been linked to the Raiders in mock draft, but he should be taken after Mackensie Alexander and William Jackson. Either of those players would be a better pick, even if Jackson's Houston ties cause some Raiders fans to see visions on D.J. Hayden struggling. But Apple isn't worth a Top 20 pick and the Raiders can find a better CB at this spot. Downoad the Chat Sports App for more Raiders coverage. 
1. Ezekiel Elliott, RB, Ohio State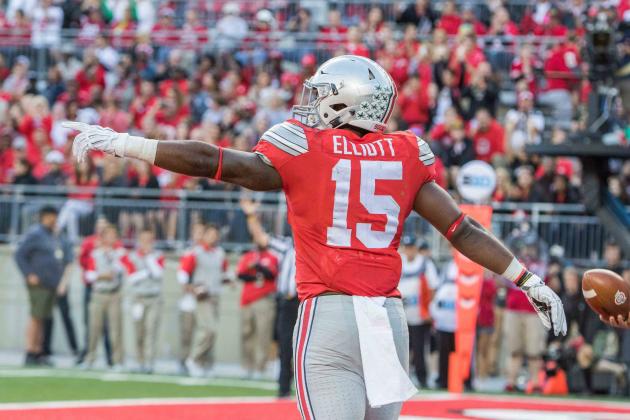 If Elliott slips to the Raiders, the team would likely at least think about taking him. Sure, they have Latavius Murray, but they need someone to pair with him. Elliott would be a decent value at No. 14, since he could very well go in the Top 10. He and Murray would form a potent 1-2 punch, but Elliott is not the right pick for the Raiders. The Raiders are better off adding a defensive piece, and spending a first rounder on a RB who would get about 50 percent of the snaps just isn't worth it. It's unlikely Elliott will slip to the Raiders, which means they likely won't have to worry about taking Elliott. 
Back to the Las Vegas Raiders Newsfeed
Related Topics: Eli Apple, Ezekiel Elliott, Raiders Rumors, NFL Draft Rumors, Jaylon Smith, Raiders News, 2016 NFL Draft