The Oakland Raiders are heading into a crucial offseason as they try to build on the momentum of this past season's playoff berth. As such, they need to re-sign some of their key free agents. Here are the three key Raiders players who are free agents this offseason:
LB Perry Riley Jr.
Oakland needs to upgrade their inside linebackers, but Riley has performed well for them and is worth keeping around. Pro Football Focus ranked him as the No. 16 inside linebacker they evaluated this year (out of 89), and was only under contract for $760,000. He would be due a raise, but not a massive one. The Raiders could re-sign him and still have cap space to really make a splash at the position, making Riley their #2 ILB instead of their #1.
DT Stacy McGee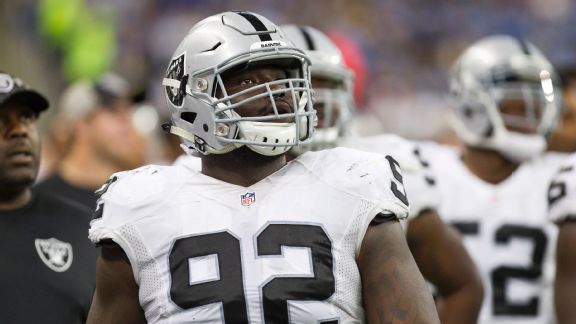 Just like the linebacker position, Oakland's defensive tackles largely underachieved this year - but McGee was a bright spot, racking up 17 tackles with two and a half sacks and two forced fumbles in nine games. The Raiders are still counting on Jihad Ward to develop into a starter, but he is still a ways away from reaching that potential. McGee was under contract for $559,670 this year, and won't cost all that much more to re-sign to a short-term deal while Ward develops.
RB Latavius Murray
Murray has said that he wants to return to the Raiders next season, but he is still going to test the open market. He had another good year with 788 yards and 12 touchdowns on 195 carries, and ran for 1,066 yards in 2015. However, Oakland has also said they will not give Murray a gaudy contract, and another team may do so. If the Raiders to let Murray walk, they need to have a backup plan. They can't go into next season without a lead back, which could cause them to spend more than they want on Murray.
Follow our Oakland Raiders news page for all the latest Raiders news!
Back to the Las Vegas Raiders Newsfeed
Related Topics: Latavius Murray, Raiders News, NFL News