The Oakland Raiders took a big step forward in 2015, winning seven games for the first time in four seasons behind the play of second-year quarterback Derek Carr and first-year head coach Jack Del Rio. As a result, this team has higher-than-normal expectations for the 2016 season - and they should. Here are three bold predictions for this Raiders team next year:
3) Khalil Mack will win Defensive Player of the Year
Mack became the first player to be named an All-Pro at two different positions (outside linebacker, defensive end) this past year, and he's now poised to end J.J. Watt's reign as the best defensive player in the league. He had 77 tackles with 15 sacks and two forced fumbles in 2015 - look for him to take another step forward and get near the 100-tackle, 20-sack plateaus.
2) Derek Carr will be in the MVP race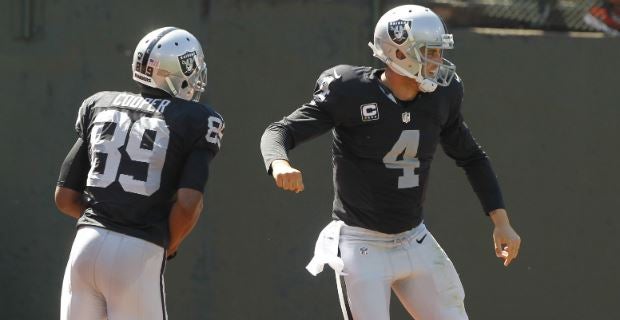 Carr built on an outstanding rookie season with a Pro Bowl year in 2015, passing for nearly 4,000 yards and 32 touchdowns. He showed a firm grasp of head coach Jack Del Rio's system, and the combination of Amari Cooper and Michael Crabtree give him the ability to take chances - chances that are often rewarded with big plays. As that duo (specifically Cooper) continue to grow, so will Carr. 
Would you be willing to be against Carr approaching 4,500 passing yards and 40 touchdowns next season? His unreal arm strength, accuracy and growing understanding of NFL defenses are set to make him a superstar.
1) Oakland will have a winning record - and will make the playoffs
The Raiders are a young team, and they battled through inconsistency and growing pains at times last season. That was to be expected, but 2016 is the year that the Raiders take the next step. Carr, Cooper and Murray's progression are bound to lead to a few more wins, as is this team now being in the second year of Del Rio's system. Throw in the fact that the Broncos and Chargers are expected to have down years, and the time is now for the Raiders to post a winning record and make the playoffs for the first time since 2002.
Back to the Las Vegas Raiders Newsfeed
Related Topics: Khalil Mack, Amari Cooper, Derek Carr, 2015 NFL Playoffs, NFL News, Jack Del Rio, Raiders News