Roster cuts are approaching for the Oakland Raiders, which mean the Raiders will be forced to trim their roster down to 53 players. The Raiders will mostly cut players to get down to the limit, but Oakland will also explore some trade options. There are a few positions the Raiders have extra talent, so the team will try to deal players and get something back in exchange. 
Trades before the regular season do happen, but they're very tough to predict and there are typically few in number. In fact, the Raiders had other trade chips not that long ago. Players like Keith McGill, Denver Kirkland or even Ben Heeney could be dealt, but they're dealing with injuries that essentially take them off the list. The Raiders already dumped played like OT Austin Howard, who could have been another trade option. As a result, we're limited to just two options. So these deals probably won't happen, but that doesn't mean the Raiders won't at least look into trading them. Here are two players the Raiders could try to trade before the season starts. 
Raiders Fans - Download Chat Sports on Android today for breaking news, rumors, scores and more - Chat Sports Android App
TE Gabe Holmes
NFL teams generally prefer to carry three tight ends as opposed to four. That doesn't bode well for Gabe Holmes. He's stuck behind Jared Cook and Lee Smith (the team's blocking TE), battling with Clive Walford for the No. 3 TE duties. Walford has fared well in the preseason thus far and if Walford can establish himself as the third option, Holmes might be on the way out. Holmes could be a practice squad option, but let's say a team like the Ravens comes through with a late round pick. The Raiders might be better served taking the draft selection than a player whose upside probably caps out as a backup TE. 
CB Sean Smith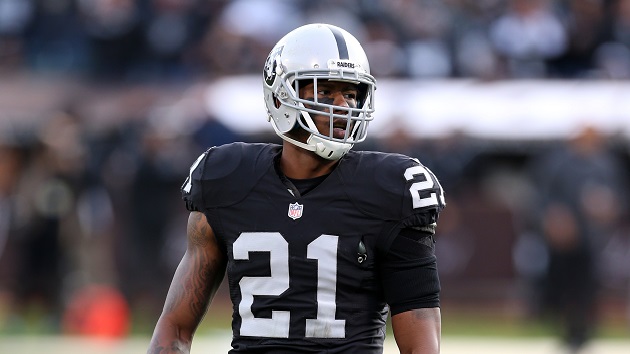 Here's the big name, but also the complicated one. Smith has not been the player the Raiders thought they were getting when they lured him away from the Kansas City Chiefs. He's been relegated to the second string in camp, getting work with the backups or covering tight ends. That's a steep drop for the $9.5 million man. The Raiders could cut him, but they're only saving $250K. That's hardly worth it, so the Raiders could look to trade Smith to a CB-needy team that is willing to bet on him returning to form. That saves significantly more money and would allow the Raiders to nab a draft pick. But does anyone want Smith's contract for this year? The size of it eliminates many teams and there's also the matter of the assault charges Smith currently faces. Smith's value has never been lower. Oakland won't get much back in return, with a late round pick the best Oakland could hope for. It's an option the Raiders can, and should, explore, but don't expect it to actually happen. 
Check out our Oakland Raiders team page for all the latest Raiders Rumors or download the Chat Sports App!
Back to the Las Vegas Raiders Newsfeed
Related Topics: Raiders Preseason, Gabe Holmes, Raiders Rumors, Raiders Trade Rumors, Sean Smith, Raiders News