The Kentucky Wildcats had an up-and-down season that ultimately resulted in a second round loss to Indiana. Now, as has become the case with Kentucky under head coach John Calipari, no one is quite sure what to make of their roster for next season. Everyone - including the walk-ons - have declared themselves eligible for the NBA Draft so they can be evaluated before coming back to school.
Kentucky already knows that their star backcourt of Tyler Ulis and Jamal Murray will stay in the draft, but the waters are a little murkier surrounding the status of Isaiah Briscoe and Skal Labissiere. However, with another top recruiting class coming in again next year, we can expect the Wildcats to compete for another national title in 2017. Here's what their lineup could look like next season:
Point guard: De'Aaron Fox, Isaiah Briscoe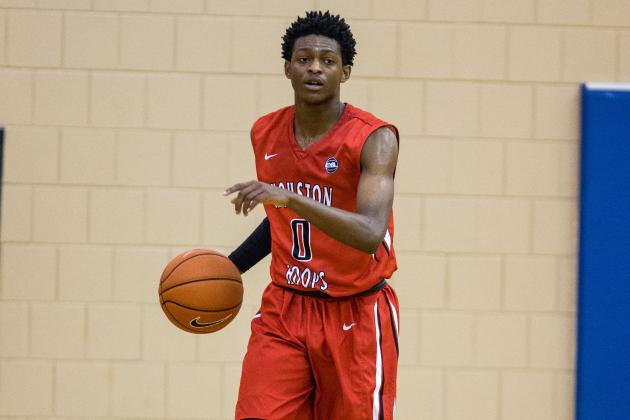 If Briscoe does come back to school, there's a chance he could lose his starting spot to Fox. The top-rated point guard in the country, Fox has the size (6'4") and athleticism that Calipari loves, along with having the scoring ability to become the focal point of UK's offense next season. Briscoe should still find a spot in the starting lineup because of his defense, but Fox will be this club's primary ball-handler next season.
Shooting guard: Malik Monk, Dominique Hawkins, Charles Matthews
Monk is the top-rated shooting guard in the country, and like Fox, will immediately step into the starting role. He doesn't have anywhere near the outside shooting ability that Murray did, but he is a freakish athlete, superb finisher, and does have a decent mid-range jumper. Hawkins is expected to keep his backup role for defensive purposes. 
Small forward: Derek Willis
Briscoe's return would probably mean Kentucky would go with a three-guard lineup, but if he doesn't, Willis will stay in the starting lineup at this spot. He will provided three-point shooting for a group that desperately needs it from someone. Defensive improvements are a must for him this offseason if he wants to see extended minutes again next year.
Power forward: Edrice Adebayo, Wenyen Gabriel, Sacha Killeya-Jones
Adebayo and Gabriel are the third- and fouth-ranked power forwards in the 2016 class, respectively, and both will battle for playing time at this slot. I give the edge to Adebayo because of his extreme physicality and ability to be a strong inside presence on both ends of the floor. Gabriel has the potential to play some small forward because of his shooting ability, as does Killeya-Jones.
If Labissiere comes back, he will start at power forward with Adebayo at center.
Center: Marcus Lee, Isaac Humphries, Tai Wynyard
The two veterans of this team should see plenty of time in the middle. Lee essentially is who he is at this point - an inconsistent offensive player who is a fairly reliable shot-blocker. He'll get the nod early in the season and should keep it to provide senior leadership on the court, but it wouldn't be a surprise to see Calipari go with Adebayo and Gabriel together while bringing this duo off the bench.
Another potential option is 6'10" Marques Bolden, who is the No. 2 ranked center in the country. He is deciding between Kentucky and Duke, and if he signs with UK, he should be penciled in as the starter.
Back to the Kentucky Wildcats Newsfeed
Related Topics: NCAA Basketball, SEC Basketball, College Basketball, Kentucky Wildcats Basketball