The sixth annual Champions Classic caps off ESPN's 24-hour college basketball Tip-Off Marathon on Tuesday, with the Duke Blue Devils squaring off against the Kansas Jayhawks in the second game at Madison Square Garden. It is a huge early-season test for both of these blueblood programs, but Duke will be shorthanded and playing without three injured freshmen (Harry Giles - knee, Jayson Tatum - foot, Marques Bolden - leg). Who will pick up a huge early season victory? Here's a complete preview and prediction:
Projected Starting Lineups
(1) Duke Blue Devils (2-0)
G Luke Kennard (So.) – 15.0 ppg, 7.0 rpg, 4.0 apg
G Grayson Allen (Jr.) – 20.5 ppg, 7.0 rpg, 3.5 apg
G Matt Jones (Sr.) – 11.0 ppg, 4.5 rpg
F Chase Jeter (So.) – 7.0 ppg, 5.0 rpg, 2.5 bpg
F Amile Jefferson (Sr.) – 10.0 ppg, 8.0 rpg, 4.0 bpg
(7) Kansas Jayhawks (0-1)
G Frank Mason III (Sr.) – 30.0 ppg, 9.0 apg, 7.0 rpg
G Devonte' Graham (Jr.) – 16.0 ppg, 4.0 rpg
G Josh Jackson (Fr.) – 9.0 ppg, 6.0 rpg
F Carlton Bragg Jr. (So.) – 12.0 ppg, 4.0 rpg
F Landen Lucas (Sr.) – 11.0 ppg, 7.0 rpg
What to watch for:
Duke's depth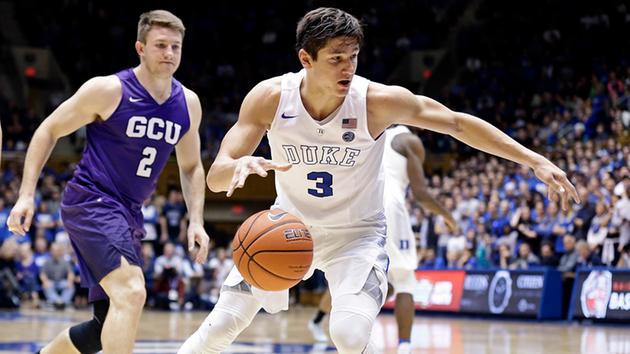 Without the trio of star freshmen - all of whom top 10 recruits and are projected lottery picks in the 2017 NBA Draft - Duke has been using a short six-man rotation. It obviously won't be that way all year, but it does make Duke especially thin and vulnerable early in the season. On the other hand, Kansas has no depth issues as nine players saw significant minutes in their opener. The Blue Devils played with a six-man rotation for most of last season, so while it doesn't kill their chances of getting a win, it does make it a lot tougher against a talented team like Kansas.
Can Kansas' defense improve?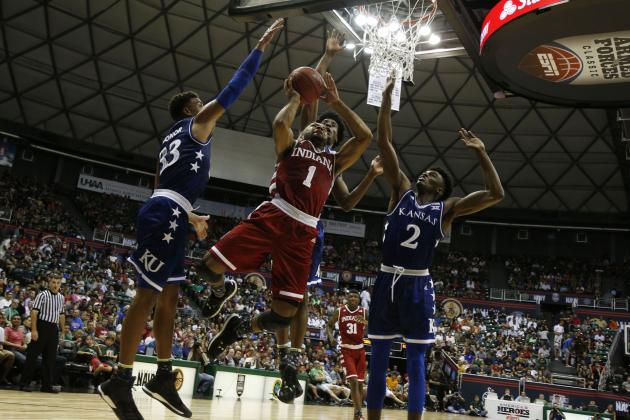 The Jayhawks are coming off a tough 103-99 overtime loss to Indiana on Friday, a game in which they allowed the Hoosiers to hit 15 three-pointers and shoot nearly 44 percent from the field. Head coach said that was because his team had too many defensive breakdowns and allowed Indiana's guards to slice through their defense.
"The reality of it is, there's so many possessions that you've got to be able to guard your man and you've got to pay attention to the scouting report," Self said. "I didn't think we were. We played like it was the first game."
Kansas didn't have much time to work on improving their play on that end, as they flew straight from Hawaii to New York to play in this game. This team has the talent and ability to be an elite unit on that side of the ball, and it's what Self expects - but they need to show immediate improvement to win this game.
Prediction: Kansas wins 85-81
If Duke's freshmen were healthy, they may win this game by double digits. Since they're not, Kansas has a definite advantage, especially in frontcourt. Grayson Allen will keep Duke close throughout the game, but the shorthanded Blue Devils just don't have enough to get them over the top.
Back to the Kansas Jayhawks Newsfeed
Related Topics: Kansas Jayhawks Basketball, Big 12 Basketball, Duke Blue Devils Basketball, ACC Basketball, NCAA Basketball