The Kansas Jayhawks were perhaps the most dominant team in the country this season, winning their 12th straight Big 12 regular season title along with the conference tournament on their way to being the only team to win 30 games before the NCAA Tournament. However, that success didn't lead to a Final Four berth, as KU was upset by eventual champion Villanova in the Elite 8.
Kansas is losing Perry Ellis, Wayne Selden and Brannen Greene to the NBA Draft, but head coach Bill Self is replacing them with another top recruiting class that will have the Jayhawks competing for a national title again in 2017. Here's what their lineup could look like next season:
Point guard: Frank Mason III, Tyler Self
Mason has held down the starting point guard spot each of the last two years and Lawrence, and that isn't coming to an end anytime soon. He'll be running the ship, and even though both Devonte' Graham and Lagerald Vick can play point, he'll play close to 40 minutes a night. Self will only play in mop-up duty.
Shooting guard: Devonte' Graham, Sviatoslav Mykhailiuk, Lagerald Vick
Graham is a point guard, but has played the two alongside Mason and will continue to do so next year. After averaging 11.3 points and 3.7 assists per game last year, he is poised to become a breakout superstar capable of carrying this team. Mykhailiuk will continue to be this team's sixth man and knockdown shooter. Vick will likely see limited minutes again in 2016-17, but will be a much bigger factor than this past year.
Small forward: Josh Jackson, Clay Young
Jackson's commitment to Kansas was arguably the biggest and most important signing in the country, filling a huge need for the Jayhawks. He's an extremely versatile wing player who can score in a variety of ways, but also has excellent court vision, averaging about eight assists per game in high school (picture a more well-rounded, less athletic Andrew Wiggins). Young, like Self, will probably only see mop-up duty.
Power forward: Cheick Diallo, Carlton Bragg Jr., Mitch Lightfoot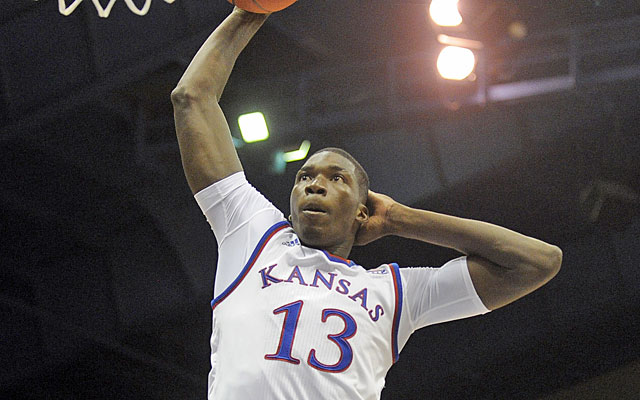 One thing's for sure - Kansas is going to be loaded with big men next year. Diallo declared for the draft, but if he returns to school (as expected), I have to imagine he'll get this starting spot. He's an extremely raw prospect, and an offseason of work with Bill Self could turn him into a Joel Embiid-type player. Bragg will certainly play starter minutes even if he's not in the starting five, and will also see time at small forward because of his athleticism and ability to hit the three. 
Lightfoot will have to work his way into the lineup as a freshman. Look for him to play sparingly and fill in when Diallo and Bragg get in foul trouble.
Center: Landen Lucas, Udoka Azubuike, Dwight Coleby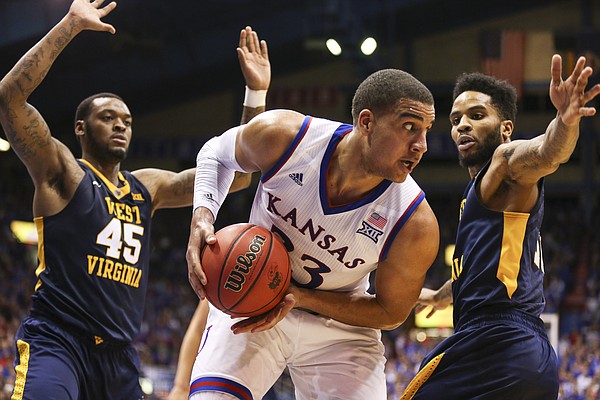 Lucas carved out an important role as a rebounder and defensive presence for Kansas this past season, and that will keep him in the starting lineup despite the arrival of McDonald's All-American Udoka Azubuike. Azubuike has superb size at 6'11" and 270 lbs, soft hands, an excellent drop step and a surprising amount of athleticim - but is still learning the game (particularly defensively).
Coleby, a transfer from Ole Miss, sat out last season with a torn ACL but has the ability to contribute as a rebounder and shot blocker.
Back to the Kansas Jayhawks Newsfeed
Related Topics: Frank Mason III, Big 12 Basketball, Devonte' Graham, Kansas Jayhawks Basketball, Mitch Lightfoot, Sviatoslav Mykhailiuk, Udoka Azubuike, NCAA Basketball, Josh Jackson, Carlton Bragg, Landen Lucas, College Basketball, Bill Self