After going to the World Series in 2016, the Kansas City Royals struggled this past season, going 80-82. The offseason is here and the Royals have an opportunity to get back on top of the AL Central. However, the team may be looking toward a rebuilding season, but Kansas City fans shouldn't give up all hope yet. The Royals had an amazing rebuild in 2013 after nine straight losing seasons, and with their first losing season in four years, it's time to get back on track. Here are all the Royals news and rumors you need to know.
Royals Fans - Download Chat Sports on iPhone today for breaking news, rumors, scores and more - Chat Sports iPhone App!
Royals vs. Padres For Eric Hosmer
All offseason rumors have been swirling about Royals star first baseman Eric Hosmer and where he will call home in 2018. ESPN's Jerry Crasnick says the Royals are "looking like the Padres' main competition" for Hosmer.
The #Royals have focused more on Eric Hosmer than their other big free agents, Lorenzo Cain and Mike Moustakas, sources say. They're looking like the #Padres main competition for Hosmer. But can they wait so long that Duda, LoMo and the other Plan B's drop off the board?

— Jerry Crasnick (@jcrasnick) December 21, 2017
The 28-year-old posted a career-best .318/.385/.498 batting line with 25 home runs and 94 RBI over 162 games in 2017. With the Royals in likely rebuilding mode, getting Hosmer back would be critical considering the Royals other big names free agents (Lorenzo Cain and Mike Moustakas) might not be resigning. 
Royals Payroll
There isn't a ton of action going on in Kansas City this offseason mainly due to the Royals' payroll. They have 11 players under contract for the upcoming season - and are paying Travis Wood to not play for them.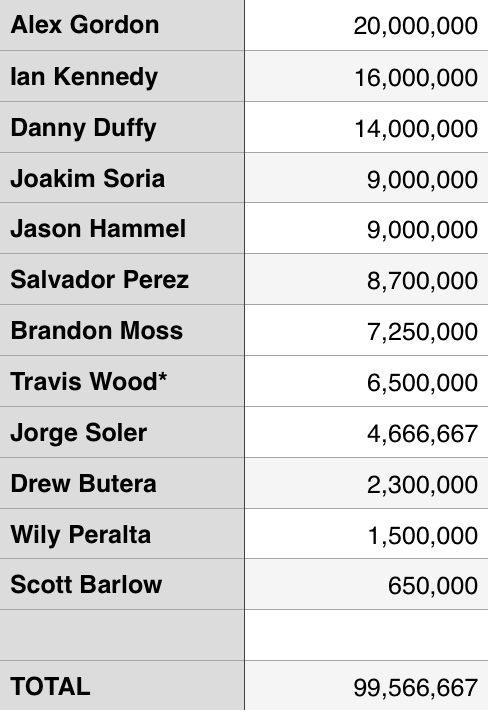 Their payroll is approaching $100 million with less than 50 percent of their team signed for 2018, and three pitchers (Kelvin Herrera, Brandon Maurer and Nate Kerns) eligible for arbitration are making $13.5 million. That's a little over $113 million for 14 players. 
In November, Royals GM Dayton Moore said that he wanted they payroll to be in the $110-$120 million range for 2018. 
#Royals GM Dayton Moore told KC radio station in November that payroll would be in $110M-$120M range. Sources now indicate number will be no more than $110M. Only way Hosmer fits is if #Royals trim in other areas. KC listening on everyone, getting significant interest in Duffy.

— Ken Rosenthal (@Ken_Rosenthal) December 13, 2017
The Royals still need to fill 11 spots and considering the league minimum in 2018 is $545,000, the Royals will be at their max. Now think about the fact that this is all before re-signing Hosmer.
Follow Chat Sports on Social Media: Facebook, Instagram, Twitter
Royals Need To Draft Better
As mentioned above, the Royals are handcuffed by their payroll and may not be able to sign Hosmer. This means the Royals need to find talent in the MLB Draft. Easier said than done for the Royals considering every first round pick since Hosmer was drafted in 2008 hasn't panned out.
When you see the swing and misses in the first round, it shouldn't surprise anyone that the Royals are in their current situation. Bottom line, if the Royals don't have the payroll to sign Hosmer and go into rebuilding mode, they need to draft better.
Check out our Kansas City Royals team page for all the latest Royals Trade Rumors or download the Chat Sports App!
Mitchell Renz is the Senior Writer & On-Air Host at Chat Sports. Check out his article archive and live videos on Chat Sports Facebook page. Please follow him on Twitter @MitchellRenz365. 
Back to the Kansas City Royals Newsfeed
Related Topics: Kansas City Royals news, Royals Free Agent Rumors, Royals News, Kansas City Royals Rumors, KC Royals, Kansas City Royals, Royals Draft Rumors, Eric Hosmer