It seems like over half of Major League Baseball is already positioning themselves to make a run at Washington Nationals superstar Bryce Harper when he hits free agency after the 2018 season, but the defending champion Kansas City Royals are nowhere to be found in that speculation.
Not yet. Don't be fooled by the mid-market mumbo jumbo -- here's 3 Reasons Why The Royals Could Be A Player To Sign Bryce Harper When He Hits Free Agency.
1. A Real Juggernaut
We don't know if you noticed, but the Royals have positioned themselves to be the premier team in the American League for years to come -- mixing young stars, deft veteran acquistions, and a starting rotation built to wreak havoc on opposing hitters day in, day out.
Harper's a competitive guy. Sometimes, a little TOO competitive. Some players look indifferent with their team struggles, but Harper isn't one of them and always wears his "must win" heart on his sleeve.
When the 2018 offseason rolls around, Harper's going to have plenty of options at his disposal. Why not hitch your wagon to a mack truck that'll already have been running roughshod over the American League for over half a decade? More Royals awesomeness inside the Chat Sports iPhone and Android apps!
2. The 2017-18 Offseason Conundrum
Here's a list of Royals core players who'll be hitting the free market after the 2017 season -- Eric Hosmer, Mike Moustakas. Wade Davis Alcides Escobar, Lorenzo Cain, and Danny Duffy.
If Kansas City can somehow lock all six down, Bryce Harper is likely a no go. However, let's say Lorenzo Cain heads out of town and finds a blowaway deal with a "big market" squad. It's not really in the Royals' blood or a normal part of GM Dayton Moore's philosophy to triple down on a massive long-term deal for someone else, but it's Bryce Harper and the Royals could have a radically reshaped roster and payroll by then.
Remember this -- megacontracts are getting more creative as agents get more crafty, giving teams that don't usually have the financial leeway to sign stars like Harper a fighting chance (see: Chris Davis' stretched-out contract with the Orioles that'll pay him until he's close to collecting Social Security).
Kansas City could feasibly extend something out in intricate fashion, especially if they've got a half-decade long dynasty as a free agency selling point.
3. End Of A Bad TV Deal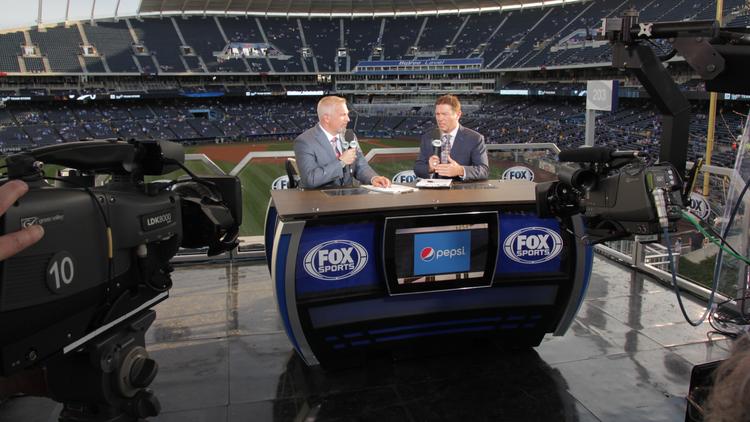 So, let's project things out a bit here. Kansas City is in the driver's seat for two more years in the American League -- it's plausible they can make it four straight AL Pennants and a collection of World Series hardware by the time the 2017-18 offseason rolls around.
2018 will be a weird season, depending on previous extensions, farm system callups and natural roster adjustments. But there's a puncher's shot Kansas City can turn this two-year run of magic into a pure dynasty and have enough momentum to keep the ball rolling.
If so, their brand will be peaking when the team's network-friendly TV contract expires after the 2019 season. Kansas City makes just $20 million a year from FOX Sports Kansas City -- $230 million less per season than the Los Angeles Dodgers' record deal with Time Warner Cable.
Let's say the Royals project out a new TV contract worth $150-200 million -- not unthinkable with how marketable the team is in the Midwest. Why not backload a deal for Harper with a manageable first year, using a major boost in revenue in later years to lock down a potential Hall of Fame talent?
If this seems like speculative clickbait, look closer. The money could be there to make a legitimate play.
Back to the Kansas City Royals Newsfeed
Related Topics: Bryce Harper, Royals Rumors, MLB Rumors