The Kansas City Chiefs hold the No. 27 pick in the NFL Draft after a stellar 2016 campaign that resulted in a playoff berth, and this team is looking to add an impact player that can help them take another step forward next season. Here are four players the Chiefs should target in the first round of the draft:
1) Sidney Jones, CB, Washington Huskies
Is Terrance Mitchell the long-term answer? He played well for the first time ever in the NFL, but do the Chiefs trust him? Heck, do the Chiefs fully trust any of the younger, unproven corners on the roster? Jones should be able to step in early across from Marcus Peters and form a duo the Chiefs can rely on long-term. Given his pre-draft injury, it's likely Jones is still on the board. Jones has said he'll be ready for 2017, but the question has to be do the Chiefs want spend their 1st round pick on a potential red-shirt guy. This month's medical re-checks will be big for Jones' status.
2) Zach Cunningham, LB, Vanderbilt Commodores
Inside linebacker is a definite need for the Chiefs with the future of Derrick Johnson in doubt. He's amazing when healthy, but he's coming off his second Achilles injury in three years and will turn 35 this year. They need to start looking for someone to be a long-term piece next to Ramik Wilson, and Cunningham might be too good to pass on. He has struggles in coverage, but may be the best run-stuffing linebacker in this class. Remember, he was one of the two best linebackers in the SEC this year with Reuben Foster, and that say something about his on-field production.
3) Christian McCaffrey, RB, Stanford Cardinal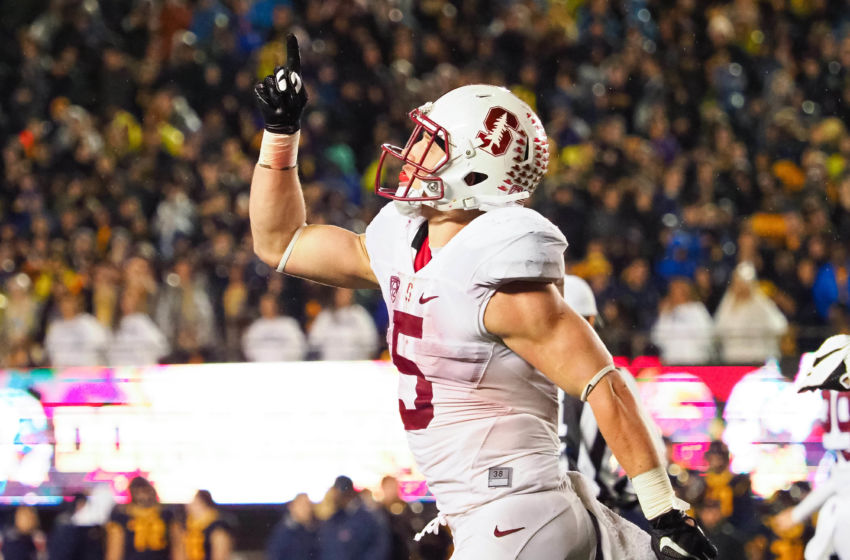 McCaffrey had an impressive combine, with a stupid fast 3-cone drill. He fits the Chiefs' scheme and I think he ends up as a late first round pick. Yes, Kansas City does have Charcandrick West and Spencer Ware on the roster slated to split the load in the backfield, but McCaffrey projects to be better than either player. If McCaffrey is still on the board, the Chiefs could look to upgrade.
4) The QB that falls
The Chiefs could be in line to grab a quarterback to groom behind Alex Smith in 2017. Kansas City hasn't drafted a QB in the 1st round since 1983, and this could be the year. With a quarterback class that has no clear favorites, it's likely one of the top four QBs (Deshone Kizer, Deshaun Watson, Patrick Mahomes and Mitchell Trubisky) will still be on the board at #27. But is that a good thing?
Follow our Kansas City Chiefs news page for all the latest Chiefs news!
Back to the Kansas City Chiefs Newsfeed
Related Topics: NFL Draft News, Chiefs Draft News, NFL News, Chiefs News, NFL Draft Rumors, Chiefs Draft Rumors, 2017 NFL Draft, NFL Draft