The Iowa Hawkeyes finished the season at 7-5 and 4-4 in the Big Ten. Despite losing two straight to wrap up the year, Iowa is destined for a bowl game this season after losing the Outback Bowl last year. Where could Iowa end up this time?
Foster Farms Bowl (Pac-12 vs. Big Ten)
Tue., Dec. 30, 7:00 p.m. PT
Levi's Stadium, Santa Clara, CA
Iowa could be heading out west to Northern California for the Foster Farms Bowl against a Pac-12 opponent. This would be quite a travel itinerary for the team, meaning it could leave some fans from attending the game, something the bowl committee is not going to want happen. Still, the Hawkeyes would make sense as the Big Ten representative here.
Music City Bowl (SEC vs. Big Ten)
Tues., Dec 30, 2 p.m. ET
Vanderbilt Stadium, Nashville, TN
While Nashville may be a step down from heading West, the Music City Bowl is a destination that Iowa could end up in as the Big Ten representative, a scenario that would likely pit them against the SEC's Tennessee.
Holiday Bowl (Pac-12 vs. Big Ten)
Sat., Dec. 27, 5:00 p.m. PT
Qualcomm Stadium, San Diego, CA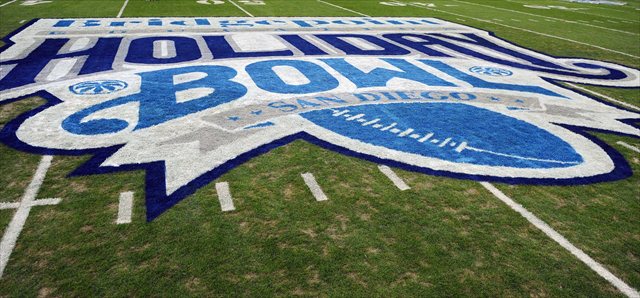 Another bowl that would result in a trip out west, the Holiday Bowl is a possibility for Iowa, but they would need to slide past teams like Nebraska and Minnesota for the right to represent the Big Ten against the Pac-12. Iowa is 2-0-1 in this game all-time.
Related Articles:
Iowa's 3 Most Likely Bowl Opponents
Back to the Iowa Hawkeyes Newsfeed