The Indianapolis Colts missed the playoffs last season, but still have their usual playoff expectations this year. The Colts are hoping to make a Super Bowl run this year, but need a few players to have breakout seasons for that to happen. 
Breakout seasons happen every year in the NFL. Sometimes, the player in question makes the leap from very good to superstar. Sometimes, a player goes from role player to key starter. So who will be the breakout players for the Colts in 2016? We've put together four of the most likely candidates below.
QB Andrew Luck
Luck gets plenty of credit for what he does for the Colts, but he hasn't quite taken the leap into the NFL's Top 5 QBs. That changes this year. Luck should be fully healthy and the offensive line should do a better job of making sure he's not getting killed. If Luck cuts down on his turnovers (his fewest was 14 in 2013), that should be a sign that he's now among the elite NFL QBs. It's only a matter of time before Luck takes that step. 
WR Donte Moncrief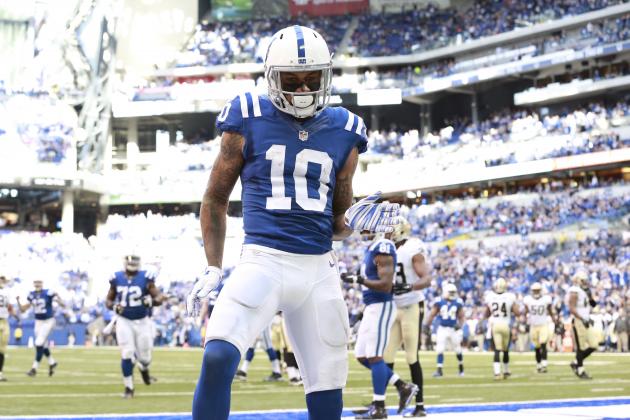 Year Two was an improvement for Moncrief, as he caught 64 passes for 733 yards and six scores. But he did much of that without Andrew Luck at QB and sharing some time with Andre Johnson. The latter is gone and the former is now healthy. That should mean a big season for Moncrief, who could surpass 1,000 yards this year. 
TE Dwayne Allen
Much like Moncrief, Allen will benefit from a healthy Luck. He'll also benefit from a healthy season of his own and the lack of Coby Fleener. Allen won't need to split time at TE with Fleener this year, giving Allen most of the playing time. Allen caught just 16 passes last year, but should vastly improve those numbers. Allen could produce some of the best TE stats in the NFL this season if everything goes according to plan. 
S T.J. Green
Including a second round rookie is a bit of a bold choice, but it does make some sense. Green has great athletic ability, and plays a similar game to the Cowboys' first round pick last season, Byron Jones. He'll be a safety for the Colts, an area that they badly need help at. Mike Adams will start, but the rest of the position has no experience. Clayton Geathers is the only player who played more than two snaps last season. The other contenders to start at safety are Winston Guy and Akeem Davis. Green might not only start, but play well for the Colts in his rookie year. 
Back to the Indianapolis Colts Newsfeed
Related Topics: Colts News, Dwayne Allen, Andrew Luck, Donte Moncrief, T.J. Green