Both the Indianapolis Colts and Buffalo Bills head into Sunday's season opener with inflated expectations and dreams of a Super Bowl title in their heads. While there's room for optimism in both camps, we've got a GREAT feeling about who's going to get a jump on 2015 with a huge victory at Ralph Wilson Stadium in Buffalo. Here's 3 Reasons Why The Colts Are GUARANTEED To Beat The Bills On Sunday.
3. Upgraded Weaponry
The Indianapolis Colts understand that they can't trot Andrew Luck out there with a depleted cache of offensive weapons and escape the same fate as their 45-7 "Deflategate" drubbing at the hands of the New England Patriots in the AFC title game last winter. Enter RB Frank Gore and WR Andre Johnson -- two dynamic veterans who still have plenty in the tank and will add potency to returning options such as WR TY Hilton based solely on presence alone.
We'll get to Luck later, but his bag of tricks is much deeper than it ever has been before.
2. Not-So Sexy Rexy
The Bills defense is going to borderline fantastic under Rex Ryan. Rex did a fantastic job with much less talent in New York, so you'd have to expect that he'll have a field day tinkering with one of the best defenses in all of the NFL.
But, good God...does Rex Ryan have a curse on him with quarterback play or what? From the fall of Mark Sanchez to the Geno Smith/Michael Vick dumpster fire, Ryan has shown an inability lately to accurately judge his quarterbacks and alter his game plans to paper over the weakness of his guy under center. Against an improved, solidified Colts defense, that'll prove his downfall in Week One.
1. Andrew Luck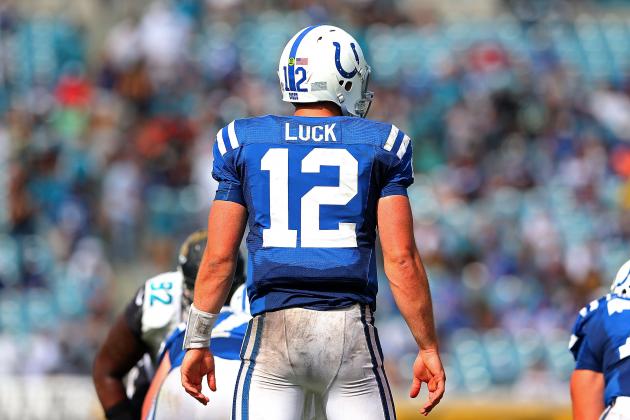 If you had to select one player to build you franchise's future around right now, you could easily pick Aaron Rodgers and bank on 7-8 years of play with 3-4 prime years and what'll likely be a graceful descent into his career twilight. Or you can pick the 25-year-old Luck -- a guy who could have a near decade-and-a-half left in him and has the Madden build-a-player dream combo of on-field smarts, a cannon arm, leadership qualities and an ability to raise his game to the moment.
The Bills have an unproven commodity under center in Tyrod Taylor. The Colts have LUCK on their side. How can you bank against Indy in this one?
Follow our Indianapolis Colts team page for the latest Colts news!
Back to the Indianapolis Colts Newsfeed
Related Topics: Indianapolis Colts, NFL, Andrew Luck, Frank Gore, Andre Johnson