The Frank Vogel Era for the Indiana Pacers is over, as Larry Bird has elected not to renew Vogel's contract. With Vogel gone, the Pacers are now in the market for a head coach. But who will Bird hire as the next Pacers' head coach? 
The Pacers have already missed out on a few of the top coaching options, such as Scotty Brooks and Tom Thibodeau. You can cross Kevin McHale off the list, as Bird said he won't be hiring his former teammate as head coach. With that in mind, here are the top 6 candidates to replace Frank Vogel as head coach of the Pacers. 
6. Patrick Ewing, Charlotte Hornets assistant coach
Ewing is one of the greatest Knicks players ever, which is why he could end up in the mix for the Knicks job. After retiring from the league in 2002, Ewing has spent the past 14 seasons as an assistant with the Wizards, Rockets, Magic and Hornets, where he has been the associate head coach since 2013. He will probably end up as a head coach sooner rather than later, and Bird knows Ewing well from their time playing against each other. 
5. Mike D'Antoni, former Los Angeles Lakers head coach
When teams fire coaches, they sometimes go from one extreme to the other. That would be the case if the Pacers hire D'Antoni. He's an offensive-minded coach and a drastic shift from the defensive-minded Vogel. He's been the head coach of the Nuggets, Suns, Knicks and Lakers, posting a combined 455-426 record. However, he's just 26-33 in the postseason. D'Antoni will interview with the Rockets and the Pacers could take a look at him as well. 
4. Vinny Del Negro, former Los Angeles Clippers head coach
Del Negro has coaching experience, having served as head coach of the Chicago Bulls and Los Angeles Clippers. However, he posted 41-41 records in two years with the Bulls and lost in the first round of the playoffs both times. He was better in three years with the Clippers, and made the playoffs in his last two seasons with the team. However, he didn't exactly get along with star guard Chris Paul and a first round loss in the playoffs resulted in the Clippers not renewing his contract. Del Negro has interviewed for jobs like the Kings', and could make his way back into the NBA as a head coach. Perhaps it will be with the Pacers. 
3. David Blatt, former Cleveland Cavaliers head coach
Blatt fell victim to the mid-season firing bug, being let go by the Cavs right before the All-Star break. Of course, that might have had more to do with his inability to get LeBron James to like him than his ability to coach. A coaching legend in Europe, Blatt had a 83-40 record in his year and half with the Cavs, including a berth in the Finals in his lone full season of NBA coaching experience. Blatt has interviewed for a few jobs this offseason, and the Pacers might be one of them. 
2. Mark Jackson, former Golden State Warriors head coach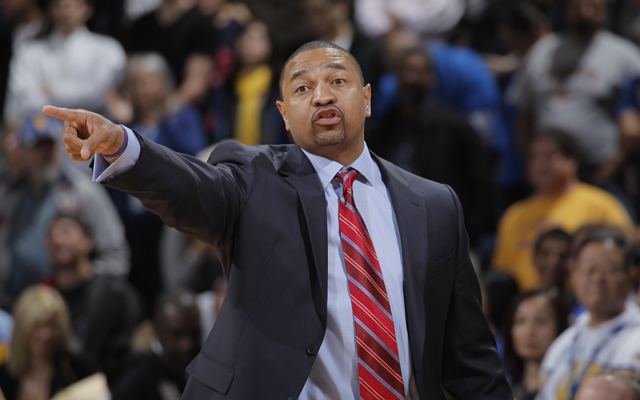 Jackson's only three seasons of coaching experience came with the Warriors. He guided them from a 23-43 record in his first year to a 51-31 record in his third year. Though he was fired after that year (2014) and Golden State won the title in 2015, he deserves some credit for building a foundation that led to the Warriors' success. However, there are major questions about his ability to get along with members of the front office, which led to his ousting in Golden State. That could be an issue in Indiana, where Bird is in charge. However, he did play for Indiana and that could help his chances. 
1. Brian Shaw, former Denver Nuggets head coach
Pacers fans remember Shaw, who was an assistant in Indiana before taking the Denver Nuggets head coaching job. A well-regarded assistant, Shaw knows how to coach a defense. While he lasted just two years in Denver, that might have been a product of the talent more so than his coaching. Given Shaw's ties to the Pacers and Bird, he at least has a shot at the gig. 
Back to the Indiana Pacers Newsfeed
Related Topics: Patrick Ewing, Vinny Del Negro, David Blatt, Frank Vogel, Mike D'Antoni, Mark Jackson, David Shaw, Pacers News, Larry Bird, Pacers Rumors