The Indiana Hoosiers have had a very up and down year under head coach Tom Crean, shaking off a horrible start to their season to win 12 games in a row, but have since lost three of their last seven. Even with their inconsistencies, the Hoosiers have shown flashes of being a team that can make a very long run in the NCAA Tournament. Here are three reasons why they're a team that has the potential to make a surprise run to the Final Four:
3) Explosive offense
Indiana's offense ranks 11th in the country in points per game (83.4), second in field goal percentage (50.3), and seventh in three-point percentage (41.7). Put them in an elite category as one of the best offenses in the nation, and that offense kept them in a lot of games they shouldn't have been in last year. Their "spurtability" (ability to go on big runs throughout the course of a game) has allowed them to outscore a lot of teams and pull off some comebacks when they need to, showing that they're never out of a game. 
2) Improved defense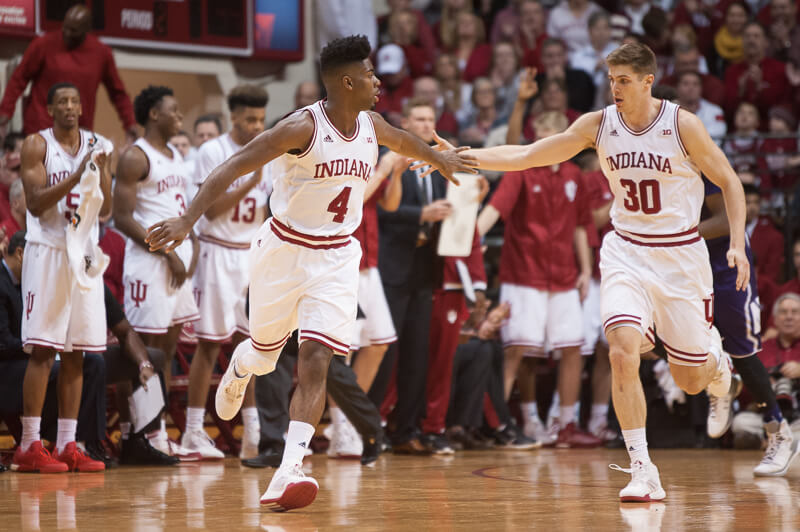 Indiana's early season struggles were caused almost exclusively by their lackluster defensive performances, but they've turned it around drastically since their 94-74 loss to Duke on Dec. 2. They've only given up 70 points six times since then, posting a 4-2 record in those games, compared to a stellar 12-1 mark when holding their opponents to less than 70 points. That's going to be the benchmark for success moving forward for the Hoosiers, and something they've shown they can accomplish time and time again.
1) Yogi Ferrell
While you can get by without it in the NBA, a team's success in college basketball is largely dictated by guard play, and Indiana has one of the most talented and experienced guards in the country in Yogi Ferrell. The unquestioned leader of this team, he ranks sixth in the Big Ten in scoring (16.6 ppg) and fourth in assists (5.6 apg) and does it efficiently, shooting a career-high 45.1 percent from the field and 41.8 percent from three-point range. 
Ferrell as also saved his best for the biggest games throughout his career, almost singlehandedly leading the Hoosiers to the NCAA Tournament last year. Expect him to step up his game in a similar way down the stretch this year, becoming one of the most dangerous players in the country.
Back to the Indiana Hoosiers Newsfeed
Related Topics: College Basketball, NCAA Basketball, Tom Crean, Yogi Ferrell, Big Ten Basketball, Indiana Hoosiers Basketball