The Indiana Hoosiers rebounded from a terrible start to the season to win the Big Ten regular season title, and they're looking to carry over the momentum into a successful run through the NCAA Tournament. However, the Hoosiers won't be satisfied with just a long run - they want to win a title. Here are three reasons why the will do just that:
3) Defensive improvements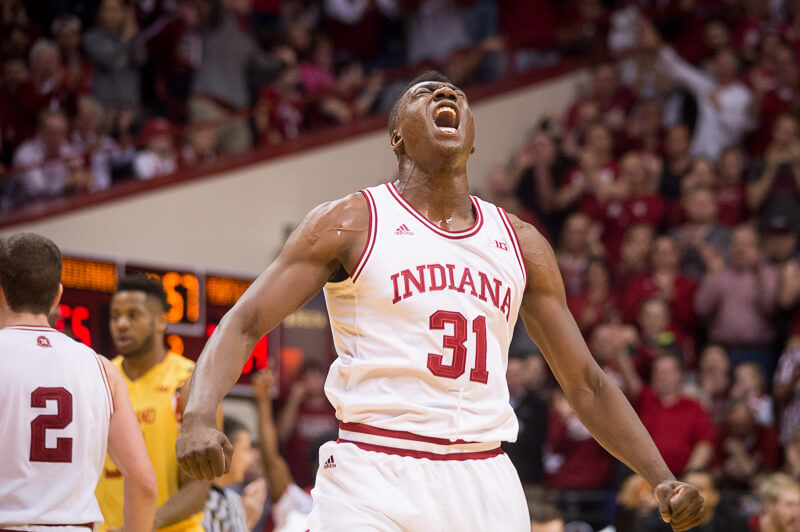 Indiana's early season struggles were caused almost exclusively by their lackluster defensive performances, but they've turned it around drastically since their 94-74 loss to Duke on Dec. 2. They've only given up 75 points three times since then, going a 2-2 record in those games, compared to a stellar 18-1 mark when holding their opponents to less than 75 points. That's going to be the benchmark for success moving forward for the Hoosiers, and something they've shown they can accomplish time and time again.
2) Offensive dominance
Indiana has always been an offensive team under head coach Tom Crean, but they've become somewhat of a juggernaut this year. On top of ranking 11th in the country in scoring (82.7 points per game), the Hoosiers do it efficiently, shooting 50.2 percent from the field and 41.9 percent from three-point range. They will barrage you with shots from the perimeter, but Thomas Bryant gives them an inside presence that makes them a truly well-rounded offense.
1) Yogi Ferrell
No player in the country means more to their team than Yogi Ferrell does to Indiana. He has been the heart and soul of the Hoosiers for the past three years, and he has been able to elevate the play of everyone around him this season through his leadership. Indiana is far from the most talented team in the Big Ten, but Ferrell essentially willed them to a conference title. Aside from the intangibles, Ferrell is also one of the best point guards in the country. Indiana's offense relies on him to create his own show and create opportunities for his teammates, both of which he does thanks to an uncanny ability to get into the lane and a deadly step back jumper.
Back to the Indiana Hoosiers Newsfeed
Related Topics: College Basketball, NCAA Basketball, NCAA Tournament, Yogi Ferrell, Big Ten Basketball, Indiana Hoosiers Basketball