The Houston Rockets have decisions to make about in-house free agents Josh Smith and Patrick Beverley this summer, but there's also some marquee talents hitting the market in July that would provide a huge boost to the team's title quest in 2015-16. Here's our list of 3 Free Agents The Houston Rockets Need To Pursue This Offseason.
PF Draymond Green, Golden State Warriors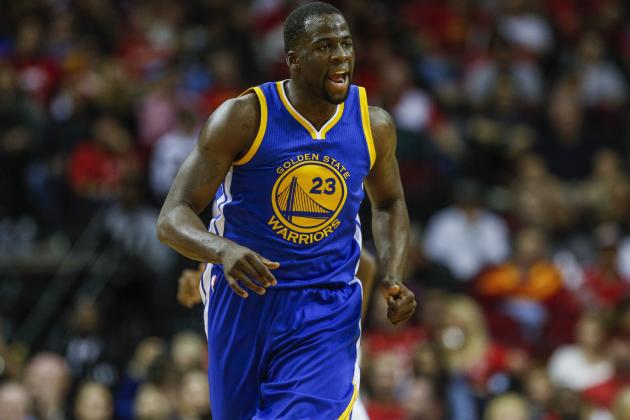 Signing Green isn't financially feasible with the Rockets' current roster construction, but Corey Brewer, Clint Capela, Terrence Jones, Joey Dorsey, and Donatas Motiejunas are have deals with one year left that could be extremely offloadable in multiple different trade scenarios.
It's feasible that GM Daryl Morey keeps a budget brigade together, holding onto Jones and maintaining optimism that 2015 free agent Josh Smith has truly found his way under head coach Kevin McHale. Or they could move on from one or both of them in favor of Green, using room from a rising salary cap to invest in a floor-spacing power forward who can open a cavalcade of opportunities for Dwight Howard in the paint and James Harden on the slash and kick. They plan to make a pitch to Green very early in free agency to gauge his interest.
PF LaMarcus Aldridge, Portland Trail Blazers
Aldridge appears to be headed to the Spurs or Lakers, but that doesn't mean he'll be short on suitors when he hits unrestricted free agency. He's averaged over 23 points and 10 rebounds per game while working through a thumb injury that required surgery back in May. Aldridge will get max offers from every team who's got money to spare, but the Rockets will try to sell him on playing a huge role for a championship contender in his home state.
PF Paul Millsap, Atlanta Hawks
Millsap's possesses true two-way talent and an underrated motor. He aveeaged 16.7 points and 7.8 rebounds for the Atlanta Hawks in 2014-15, and his deft shooting touch and impressive versatility makes him a prime target for any team in need of frontcourt help. Pairing him up with Dwight Howard could be just the piece to put Houston over the Western Conference championship hump.
Follow our Houston Rockets team page for all the latest Rockets news and rumors!
Back to the Houston Rockets Newsfeed
Related Topics: Rockets Rumors, NBA Free Agency Rumors, Houston Rockets