The Green Bay Packers hold the No. 27 overall pick in the NFL Draft after making the playoffs this year. The Packers beat the Washington Redskins in the Wild Card round, but came up just short against the Arizona Cardinals. The Packers aren't picking very high, they can still add a major contributor in the first round. Here are three players the Packers should target in the first round:
Emmanuel Ogbah, OLB, Oklahoma State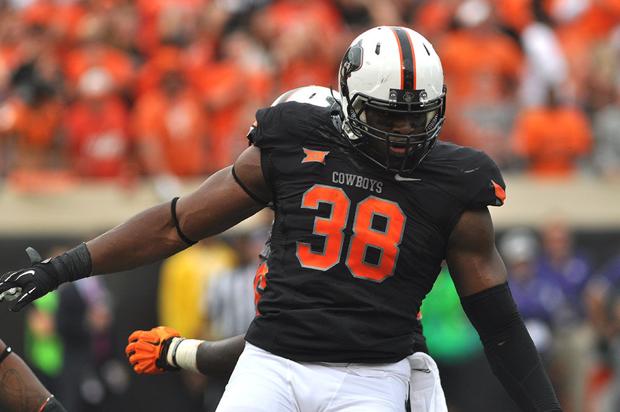 Of the 3-4 edge rushers worst a first rounder, Ogbah seems like the most likely to fall to Green Bay and be worth taking. He already looks like an NFL pass rusher, and can play as a 4-3 DE and 3-4 OLB. He's coming off a big season and could actually be off the board before the Packers pick. Drafting Ogbah would help the Packers' pass rusher, and could be a long-term replacement for Julius Peppers. For more Packers news, download the Chat Sports Android and iPhone app. 
Reggie Ragland, ILB, Alabama
Ragland isn't as good as C.J. Mosley, but he is the perfect fit in the Packers' 3-4 defense. He might not last until pick No. 27, but he'd be a strong selection. Green Bay needs ILB help, especially if they plan on moving Clay Matthews back to outside linebacker. Download the Chat Sports Android and iPhone app for more on Ragland. 
Kenny Clark, DT, UCLA
There's a very good chance that Clark won't be on the board for the Packers at No. 27. But if he lasts, the team should jump all over him. He'd be the perfect replacement for B.J. Raji, who is a free agent. Clark has a bright future and landing him would be a major boost for the Packers' defensive line. If Clark is off the board, another defensive lineman like Alabama's Jarran Reed or Penn State's Austin Johnson would make sense. For more on Clark, download the Chat Sports Android and iPhone app. 
Back to the Green Bay Packers Newsfeed
Related Topics: Kenny Clark, Reggie Ragland, NFL Draft News, NFL News, Emmanuel Ogbah, NFL Draft, Packers News, 2016 NFL Draft