As training camps get set to open and another NFL season draws near, it is time to look at some players who could have major impacts for their teams in 2014. Although Packers fans salivate at the possibility of another full season with Aaron Rodgers at the helm, it is one of his targets that is poised for a breakout year after returning from injury.
Randall Cobb emerged as Rodgers' favorite target early in 2013, being targeted 40 times through the first four games of the season. That number was 25% higher than number two target Jordy Nelson (30) over the same span. Cobb was on pace for over 1,000 yards and ten scores, but a fractured tibia in his right leg sustained in a game at Baltimore caused him to miss ten games. He would not return to action until the final regular season game against Chicago. Much of the press was focused on Rodgers' return, but Cobb made the play that sent Green Bay to the playoffs in Week 17.
On fourth and 8 with the Packers trailing by one in the final minute, Cobb adjusted his route when he caught Bears safety Chris Conte flat-footed at the first-down marker. Instead of running a pattern that would have just gotten the first down as Conte anticipated, Cobb ran right by him and threw his arm up to flag down Rodgers, who escaped the pocket and delivered a strike to Cobb for the deciding score.
[caption id="attachment_845" align="aligncenter" width="480"]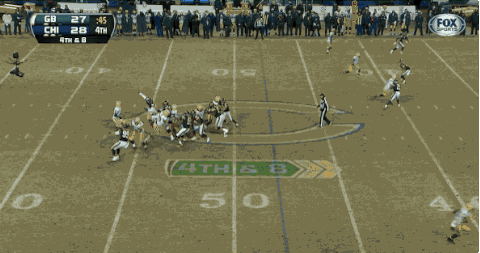 Randall Cobb's go-ahead TD catch from Aaron Rodgers helped Green Bay clinch the NFC North in 2013.[/caption]
Now entering his 4th NFL season, Cobb could be poised to make a major leap in production with James Jones no longer in the picture. Vic Ketchman of the team's official website said in a recent column that he believes that Cobb could even lead the league in receptions. The NFL receptions leaders in the last three years have been Wes Welker (122), Calvin Johnson (122) and Pierre Garcon (113). Cobb's career high for receptions in a single season is 80, which came on 104 targets in 2012. Even when the passes are coming from Aaron Rodgers, it will take far more targets for Cobb to have a shot at the receptions title. However, with James Jones moving on to the Raiders in free agency, Cobb becomes one of two primary options for Rodgers this season, along with Jordy Nelson.
Rodgers is usually one to spread his targets around, but Cobb has set himself apart with his reliability in the clutch and ability to make defenders miss after the catch. Expect many more great plays like these from Cobb in 2014.
https://www.youtube.com/watch?v=154R71Kp56w
For more Packers and Brewers coverage, follow @ZacBellman_WNY, @ChatPackers and @ChatBrewers on Twitter.
Back to the Green Bay Packers Newsfeed