The Golden State Warriors came up just short in the NBA Finals, and now the Warriors are focused on the offseason and making their team even better. The Warriors have several notable free agents this year, but not all of them will return. The two biggest players the Warriors will need to make decisions on are Harrison Barnes and Festus Ezeli. 
The Warriors have both unrestricted and restricted free agents this offseason. The Warriors can match any offer a RFA gets, but don't have to do so. What the Warriors do with their own free agents will depend heavily on what happens with other free agents, namely Kevin Durant. Nothing is set in stone for any player, so we're listing each player as either likely leaving or likely staying. With that in mind, here are which Warriors free agents will stay and which will leave. 
Harrison Barnes - Restricted Free Agent
Barnes was bad in the NBA Finals, and likely cost himself some money in free agency this year. But the former lottery pick will still likely be paid by some team this offseason. There are some flaws and concerns with Barnes, but he did average nearly 12 points per game as a fourth option.  
Verdict: Likely Leaving
Barnes' play in the NBA Finals didn't help his chances of the Warriors re-signing him. With the cap rising, some team is going to offer Barnes more than the Warriors are willing to pay him. If the Warriors do make a run and land Durant, then Barnes is for sure gone. It's not set in stone, like most of the decisions for these players, but it's more likely than not that Barnes is elsewhere next year.  
Festus Ezeli - Restricted Free Agent Ezeli is another RFA, but the Warriors might not match any deals he gets. He showed some promise this year and will get paid in the offseason. Big men aren't cheap, especially 26 year-old-ones like Ezeli. At the very least, he could get $10 million as a backup, although someone could try to make him into a starter (Lakers?). He's not a great offensive threat yet, but he's a solid rim protector and rebounder. 
Verdict: Likely Leaving
The Warriors could bring back Ezeli at around $10 million a year, but there's chance Ezeli will get more than that on the open market. Plus, $10 million might be too much if the Warriors make runs at Durant or a big like Al Horford. This one is close to 50-50, but the odds are tilted in the favor of Ezeli leaving. 
Marreese Speights - Unrestricted Free Agent
Mo Speights is a fan favorite, and his ability to stretch the floor off the bench is a big help to the Warriors in certain lineups. But he didn't play much in the NBA Finals because he's a liability on defense. But in the 11.6 minutes he averaged during the season, he did put up 7.1 points. 
Verdict: Likely Leaving
Speights might be able to find more money and more playing time by leaving this offseason. He's expendable for the Warriors and several other teams could use his shooting ability. 
Leandro Barbosa - Unrestricted Free Agent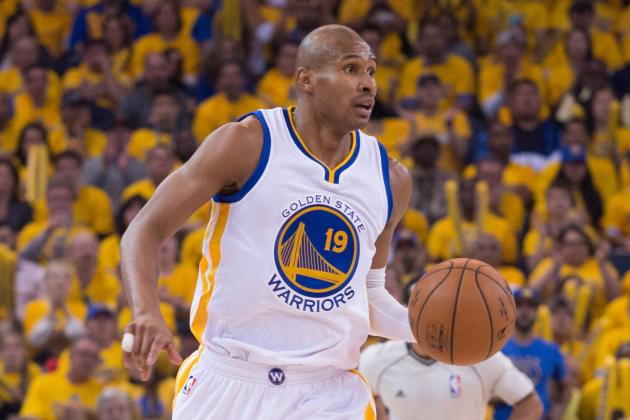 Barbosa has been around for awhile, but is still only 33 years old. He carved out a quality niche as a reserve guard. He's one of the Warriors more reliable bench pieces and can still contribute in that role for many teams. 
Verdict: Likely Staying
Final, a player likely to stay. Barbosa knows his role and seems more likely to chase rings than money. 
Brandon Rush - Unrestricted Free Agent
Rush will turn 31 this offseason, meaning he's looking at what could be his last chance to get a long-term (ish) deal. Rush played well during the regular season, even getting some starts. He's a solid shooter, hitting 41.4 percent of his 3-pointers, although his defense is suspect.  
Verdict: Likely Leaving
The Warriors might only be able to bring back one of Rush or Barbosa. Rush might be able to get paid more on the open market, and makes more sense as a potential departure. This one is close to 50-50, and the Warriors will try to keep Rush. 
Ian Clark - Restricted Free Agent
Clark barely made the team this year, but showed some promise in limited minutes. If he leaves or stays, he'll likely see more action than just the 8.8 minutes per game he played this year. 
Verdict: Likely Staying
If Rush or Barbosa leave, Clark could be asked to help replace them. He's not quite the shooter that either of them are, but he's a solid player nonetheless. Plus, he might be the cheapest of the three. 
James Michael McAdoo - Restricted Free Agent
McAdoo didn't play much this year for the Warriors, seeing only 6.4 minutes per game. He's still a project, and the Warriors are trying to develop him into a Draymond Green-lite. 
Verdict: Likely Staying
McAdoo doesn't have much reason to leave, as he likely wouldn't see any major bump in pay or playing time away from Golden State. The team is trying to groom him and don't appear ready to give up on the 23-year-old quite yet. Much like Clark, the qualifying offer seems like the outcome in the case. 
Anderson Varejao - Unrestricted Free Agent 
The Warriors added Varejao in the middle of the season to provide depth in the front court. That's exactly what he did, although the 33-year-old doesn't have much upside. 
Verdict: Likely Leaving 
The Warriors don't really have much need for Varejao, even if Ezeli leaves. They can find a big that matches his production for the veteran minimum in free agency or during the season. They could even go after a Joakim Noah as an upgrade. 
Back to the Golden State Warriors Newsfeed
Related Topics: Warriors Offseason News, Leandro Barbosa, Brandon Rush, Marreese Speights, Warriors Free Agency, Anderson Varejao, Warriors Offseason, Ian Clark, Harrison Barnes, Warriors News, Festus Ezeli, Warriors Rumors