The Florida State Seminoles lost a plenty of of talent this year, but plan on keeping their spot at the top of the ACC and college football. The Seminoles have recruited well, but many of those players have limited playing time at the college level. FSU plans on making another run at the College Football playoff this season, but the 'Noles need a few players to have breakout seasons for that to happen. 
Breakout seasons happen every year in college football. Sometimes, the player in question shows flashed the previous season and takes the logical step forward. Sometimes, the player comes out of nowhere to make a massive impact. So who will be the Florida State Football breakout players in 2016? We've put together four of the most likely candidates below, although there are a few other players who could end up breaking through this year. 
QB Deondre Francois 
Sean Maguire is back after sharing starting duties with the graduated Everett Golson, but don't assume that Maguire is a lock for the starting job. He wasn't that great FSU last year, and was downright awful in the bowl game, throwing four picks. There's no guarantee he'll be the starter, especially if Francois can show he has a firm grasp of the offense. He's a better runner than Maguire and has a stronger arm. The top dual-threat in the class of 2015, Francois has the raw ability. If he carries his strong play in spring ball over to fall practice, he could very well win the starting job. This is a bit of a stretch compared to the other players, but Francois could have a big season. 
WR Auden Tate
Travis Rudolph is primed for a big season in his own right, but after catching 7 TD passes for nearly 1,000 yards last year, he's too established to qualify. And Rudolph can't do everything for FSU, opening the door for a player like Tate to contribute. Sure, there's also the undersized Jesus Wilson and Kermit Whitfield, but FSU wants a good No. 4 WR. That could be Tate, especially in the red zone. He checks in a 6-foot-5, 218-pounds. He didn't see the field in his freshman season and perhaps this is asking too much of Tate, but the potential is there. He looked sharp in the spring game, catching six passes for 100 yards and a pair of TDs. 
DE Josh Sweat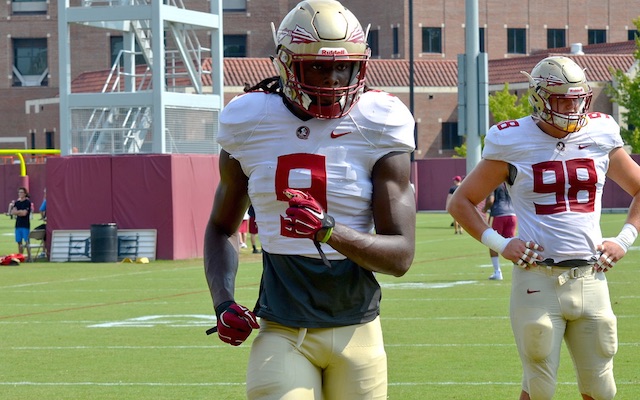 In his freshman year, Sweat recorded 41 tackles, five tackles for loss and two sacks in a part-time role. Now a sophomore, Sweat will be a starter and is primed for a monster season. The former five-star recruit has plenty of talent and could be the next great FSU defensive lineman. For more Florida State coverage, download the Chat Sports App!
S Derwin James 
Met the next great Florida State defender. James played in every game as a true freshman for FSU. He recorded 91 tackles, 9.5 tackles for a loss, 4.5 sacks, five pass breakups and two forced fumbles. James could play all over the field, and the 'Noles will likely line him up wherever he'll be best suited to make plays. Expect to see him at safety, linebacker and cornerback this year. The 6-foot-2, 212-pound James might actually to well-known to make this list, but he should be even better in his sophomore season. 
Back to the Florida State Seminoles Newsfeed
Related Topics: Florida State Seminoles Football Rumors, Florida State Seminoles Football News