Week 7 of the NFL season is nearly in the books and that means fantasy football matchups are wrapping up. Check out our Fantasy Football Final below for the six biggest on-field stories from Sunday.
Arian Foster Injured
We start with a bit of bad news for Foster owners. All indications are that Foster tore his Achilles, which would end his season. While the team will wait for an MRI to confirm the injury, it looks like Foster's season is over. If you need to replace Foster, here are five players that could fill his roster spot.
Dolphins Crush Texans 
QB Ryan Tannehill, RB Lamar Miller and WR Jarvis Landry all had great games. Tannehill had perhaps the best game of his budding career, completing 18 of 19 passes for 282 yards and four TDs. Miller had 17 touches for 236 yards of total offense and two scores. Landry caught five passes for 83 yards and two scores. Sure, it came against the Texans, but the Dolphins are now playing like I thought they would. I have high expectations for those three going forward. 
Todd Gurley Is A Beast
So long as he stays healthy, Gurley has a bright fantasy future. He ran all over the Browns, racking up 128 yards and two scores on the ground. Of course, that was partially expected given how bad the Browns' run defense is. Gurley might not put up such great numbers against better defenses, but he's a great RB2. 
Hello, Darren McFadden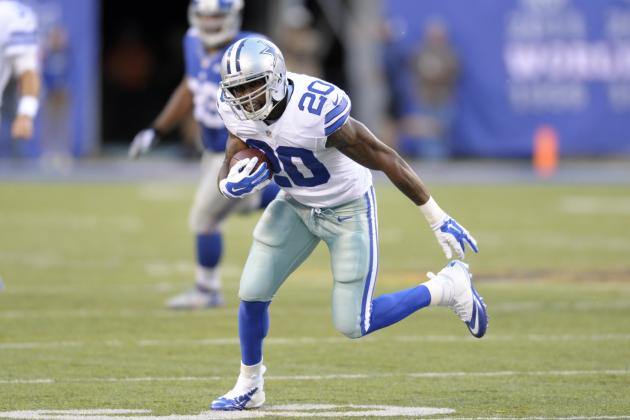 All week, we heard "Christine Michael." Well, after McFadden torched the Giants defense for 152 yards and a TD, I feel played. McFadden ran for more yards this week than he did all season. Now, everyone who owns Michael needs to go sign McFadden, including me. This is just classic fantasy football.
Who To Ignore
Texans WR Nate Washington catching nine passes for 127 yards and a score just screams "fool's gold." I don't trust Washington at all and don't think he's worth adding. The same is true of Redskins QB Kirk Cousins and Texans QB Brian Hoyer. Outside of deep leagues, they aren't worth wasting a roster spot on. 
Who To Watch
McFadden is the obvious name here, but so is Chiefs RB Charcandrick West. The new starter racked up 110 yards and a score. He's no Jamaal Charles, but he is worth owning. I also like Vikings WR Stefon Diggs. 
Back to the Fantasy Football Newsfeed
Related Topics: Darren McFadden, Todd Gurley, Stefon Diggs, Kirk Cousins, Lamar Miller, Ryan Tannehill, Fantasy Football 2015, Jarvis Landry, Nate Washington