Four weeks of the fantasy football season are over and owners are looking to acquire players who have posted impressive numbers so far. Several of these players aren't going to continue their impressive level of play throughout the season. You can take advantage of the overanxious owners and deal "sell-high" players. These are fantasy players with low floors that you can deal for more than their actual value. I'll try to keep this list fresh each week, but don't be surprised if some players show up in consecutive weeks. With that in mind, here are 5 players you should sell high on. 
Carson Palmer, QB, Cardinals 
Palmer has killed it this season, and he's appeared on my Start 'Em list several times this season. He appears again this week, but don't be afraid to deal him you get a good offer. He's the 4th best fantasy QB right now, but he won't finish that high. He's played terrible defenses like the Bears, 49ers and Saints this season. Once he plays better defenses, and he does once the fantasy postseason starts to approach, he'll fall back down to earth. If you can get a RB2, WR2 or another great QB, make the trade. 
Devonta Freeman, RB, Falcons Freeman is the top fantasy RB right now, but there is no way he keeps that pace up. For starters, he's relied heavily on touchdowns, which is dangerous to chase for fantasy owners. Secondly, when Tevin Coleman returns, Freeman won't get as much work. He's great to have now, but trading Freeman for a more stable RB is a smart move. 
Dion Lewis, RB, Patriots 
I simply don't want to play Bill Belichick roulette this season. It's a dangerous game that you'll never win. Lewis still has strong PPR value, and I don't recommend dealing him in that format unless you get a great offer. However in standard leagues, I'd prefer to move Lewis for a safer option. A WR2 or RB2 is a good deal for Lewis and one I would take. 
Joseph Randle, RB, Cowboys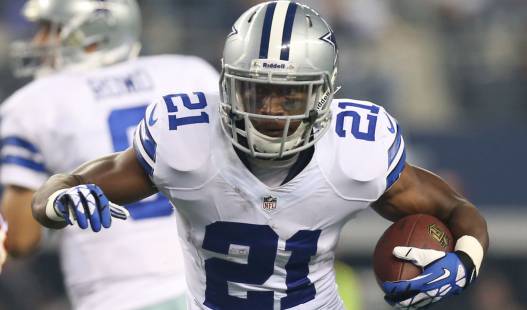 Randle is the 5th best fantasy RB this season, but a big part of that is his three TD game against the Falcons. Randle is still part of committee in Dallas and his carries have dropped in each game since Week 2. He didn't receive a single carry in the fourth quarter against the Saints after he extended the ball across the goal line and fumbled. It was ruled a TD, but the Cowboys didn't like Randle's risky play. If you can find an owner that won't look beyond the point totals, make a deal. 
James Jones, WR, Packers
Jones has played well this season and is the 8th best fantasy WR. However, he ranks so high because four of his 17 catches have gone for TDs. That's a ratio that is unlikely to continue this season. Playing Jones is chasing touchdowns, which is dangerous. He ranks outside the top 60 among all players in targets this season. If you can get a WR3 for him, it's smart to make a deal. 
Back to the Fantasy Football Newsfeed
Related Topics: Devonta Freeman, Carson Palmer, Joseph Randle, James Jones, Fantasy Football 2015, Dion Lewis