The New England Patriots will be without their current leader in receptions, Julian Edelman, for at least a handful of weeks after suffering a broken bone in his foot on Sunday.
Even if Edelman is able to return from surgery late in the year, fantasy football owners are better served to punt on Edelman now and try to find a waiver wire replacement or two to approximate his production. We're here to help. Here's Fantasy Football: 4 Players To Sign As Potential Julian Edelman Replacements
4. Marvin Jones -- Cincinnati Bengals
Jones isn't the top option in Cincinnati, but he has produced this season. He's a bit boom-or-bust, but should at least be on the bench in most leagues. He has upside as a flex play if the matchup is right. Plus, you no longer need to worry about his bye. 
3. Kamar Aiken -- Baltimore Ravens
Aiken is the top target for the Ravens with Steve Smith out, although that's not saying much since they have nothing at WR. He's not that great of a weapon, but it's not like Joe Flacco has very many other options. Keep an eye on the knee sprain that he suffered this past week, but he'll remain the focal point of the passing game if he's out there.
2. Brandon LaFell -- New England Patriots

LaFell is the only dangerous non-slot receiver the Patriots have at WR, and his value will only be trending upward with Edelman on the shelf and more targets to go around. One of two Pats to end our countdown, treat LaFell like you would have Torrey Smith back with the Ravens -- a big-play boom-or-bust play who may be able to swing a week in your favor, as long as he can keep recovering from the foot injury that kept him on the shelf to start the season.
1. Danny Amendola -- New England Patriots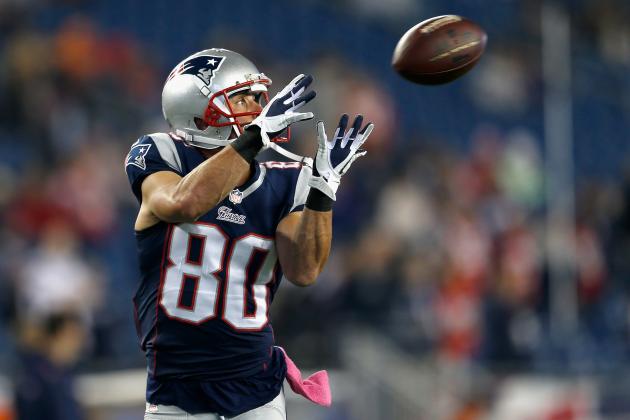 We're high on Amendola as Edelman's essential replacement, even if his durability issues remain a concern. Edelman was a PPR beast before his injury, gobbling up the majority of targets that weren't fed to Gronkowski. Amendola will get a large share of Edelman's looks, and while he's not as explosive as LaFell, he'll likely emerge as Brady's "Mr. Dependable" going forward.
Back to the Fantasy Football Newsfeed
Related Topics: Brandon LaFell, Julian Edelman, Marvin Jones, Kamar Aiken, Danny Amendola