The San Francisco 49ers may have a couple more roster worthy players in fantasy football leagues this season. In a division that has four of the top ten fantasy defenses according to Bleacher Report, the competition will be tough. However, the team seems equipped to make another deep run in the playoffs and to give you a few fantasy football starters.
The Weekly Starters:
Michael Crabtree: I've already expressed how I feel about Crabtree in my player profile on him and our top 200 rankings but I'll say it again. Crabtree is in for a career year and this is the season you want to draft him. Throwing away last season-- he missed 13 games due to a torn achilles-- in 2012 through the 10 Colin Kaepernick starts Crabtree had 61 receptions, 880 yards and 8 touchdowns. Take those numbers and put them in a 16 game season and they project to 98 receptions for 1408 yards and 13 touchdowns.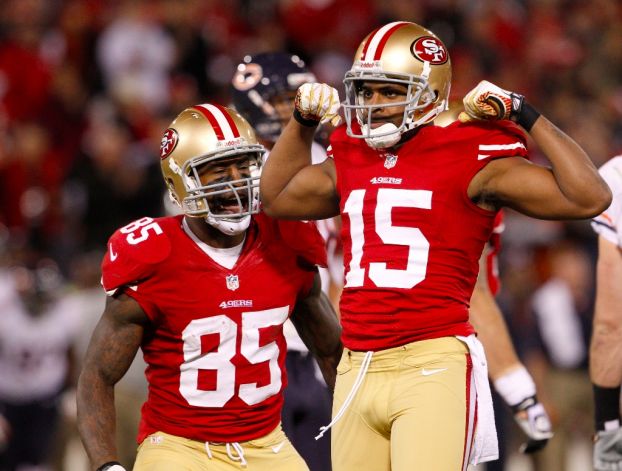 Vernon Davis: Davis is coming off a season where he tied a career high in touchdowns with 13 and is a reliable every week starter. Over his eight-year career he has only missed nine games and only one over the past six seasons. With Stevie Johnson coming over to San Francisco it does add another option for Kaepernick to look for but Davis is still the best option for San Francisco to stretch the field. He will give you plenty of big plays this season.
Frank Gore: Yes the 31-year-old Frank Gore is an every week starter. Every season people say this is the year that Gore's production is going to drop and every year Gore comes out and rushes for 1,000+ yards. The offensive line is still going to be one of the best in the league. The "inconvenient truth" could slow down toward the end of the season as the Niners rest him for the playoff run but barring injury he should go over 1,000 yards yet again this season. Which would make him a good flex or RB2 candidate.
Just Missed The Cut:
Colin Kaepernick: A lot of people may not understand why "Kap" is not in the every week starter category, here's why. Kaepernick is being drafted just outside of the top 10 quarterbacks and unless you are in a 12-plus team league, you have probably already drafted your starting QB. Last season Kaepernick only threw for over 200 yards six times and over 300 yards in only two games. He never eclipsed 100 yards rushing and only surpassed 50 yards on four occasions.
Anquan Boldin: Boldin was boom or bust all last season and while the presence of Crabtree may help him find more space, he will most likely be inconsistent once again. He was clearly the top receiver for Kaepernick last season but won't be this year. With the addition of Stevie Johnson, a healthy Crabtree and Vernon Davis still in the fold, Boldin will look to be the second or third option in the passing game.
Stevie Johnson: Buyers beware. The already mentioned crowded passing attack will leave Johnson on the outside looking in. Probably the fourth option in the passing game behind Crabtree, Davis, and Boldin.
San Francisco D/ST: This one may shock some people as well but the Niners defense lost some important pieces in the secondary and will be without key members of their defense for a while. Pass rushing specialist Aldon Smith is expected to be suspended 4-6 games and top linebacker Navarro Bowman is expected to miss at least eight games with an injury. Once Smith returns you can begin to play them on a weekly basis and expect another upgrade when Bowman returns.
Sleepers: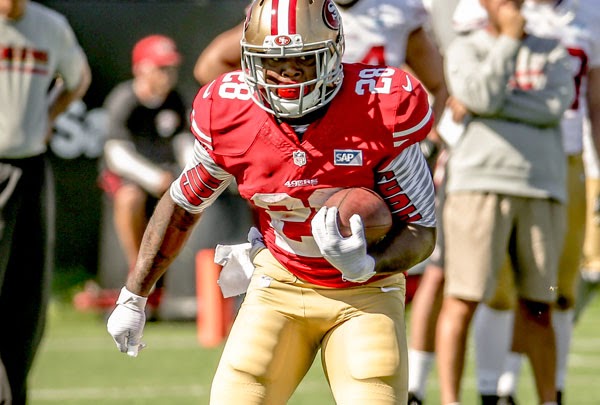 Carlos Hyde: Kendall Hunter is out for the season after injuring his knee earlier in training camp freeing up the backup role. Carlos Hyde's only other competition is the change-of-pace back LaMichael James and the slow recovering Marcus Lattimore. Hyde has taken the vacancy and ran away with it, making him the sure backup to Frank Gore. Hyde is going anywhere from the 12th-15th round in drafts where he could be a great value at that spot.
Vance Mcdonald: This is a very, very deep sleeper but the second year athletic tight-end out of Rice is a Vernon Davis injury away from being a borderline TE1.
For more Fantasy Football News check out our Fantasy Football Draft Guide!
To read more articles from Al King, follow him here!
Back to the Fantasy Football Newsfeed