The Cincinnati Bengals were the AFC North Champions in 2013 with an impressive 11-5 record. This season their offensive coordinator has moved on and the new one in town runs a contrasting offensive style. Last year it was a Jay Gruden led offense, an offense that had more passing opportunities than this season's will. This year it is former RB's coach Hue Jackson taking over the offensive coordinator role. Jackson was a the head coach of the Oakland Raiders as recent as 2011. He heavily used his running backs in Oakland in both rushing attempts and receptions. You can expect more of that in Cincinnati.
So who are the players to own on the Bengals this year?
Every Week Starters:
A.J. Green, WR: Do I really have to explain this? Okay, I will. Green is one of the elite wide receivers in the NFL and has 1,000+ receiving yards in each of his three seasons. Easily the number one receiving option in Cincy, Green has seen his yearly targets raise from 116 to 164 to 180 in his first three years. Even with an offense that is expected to run a little more, there is no denying Green is a solid WR1.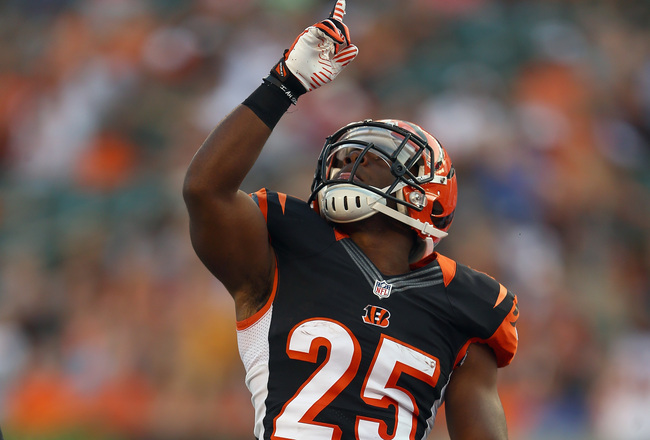 Giovani Bernard,RB: Bernard is a second year running back who is being handed the starting job. He has been running exclusively with the first team this preseason and is expected to flirt with 300 touches this year. His pass blocking and receiving ability gives him reason to stay on the field for all three downs. He will bring in plenty of passes from QB Andy Dalton out of the backfield. This is just an opinion but I could even see him getting a crack at goal line work before they decide to go with someone else.
Just Missed the Cut:
Andy Dalton, QB: Dalton finished the season as the No. 5 fantasy quarterback after finishing third in touchdowns, seventh in total yards and eighth in pass attempts with 586. While it is expected for his attempts to go down, the surrounding cast is still better than average with Green, Bernard and the emerging Tyler Eifert. Dalton could once again be a top-10 QB and a solid QB2 or backup.
Jeremy Hill, RB: Hill is going to beat out BenJarvus Green-Ellis for the immediate backup role to Gio Bernard. This is significant because Hue Jackson's offense relies on two running backs to contribute to be successful. Looking back on his 2010 Raiders, Jackson had Darren McFadden with 223 carries and 47 receptions in 13 games while backup Michael Bush had 158 carries with 18 receptions in 14 games. Hill is expected to have a role in the offense and if Bernard has to miss any time Hill will get a huge bump in workload.
Sleepers:
Tyler Eifert, TE: The second year tight-end out of Notre Dame is going to benefit from the injured Marvin Jones being out until at least week 5. With the injury the Bengals may look to use Eifert out of the slot more and at 6 foot 6 inches and 250 pounds with decent speed, Eifert could prove to be a matchup nightmare. The Bengals beat writer Paul Dehner is projecting 700+ yards and a 5-7 touchdowns.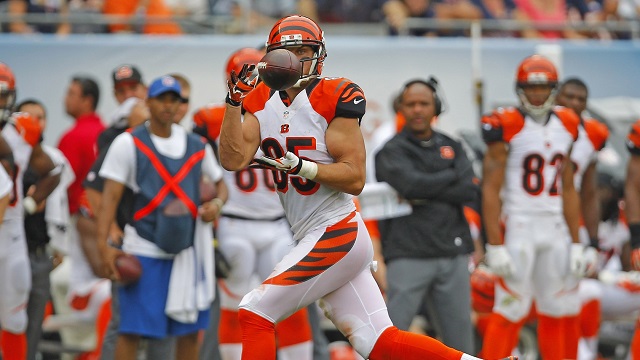 Mohamed Sanu, WR: Sanu is going to slide in to the No. 2 role for the injured Jones and is reportedly having a strong camp. The third-year receiver has been unimpressive thus far in his career and is hoping to be a year three receiver breakout. Sanu is worth a late round flier in deep leagues or a guy to watch on the waiver wire in 10-team leagues.
Need more Fantasy Football coverage? Check out our Fantasy Football Draft Kit!
Follow the author Al King!
Back to the Fantasy Football Newsfeed