With news that Minnesota Vikings running back Adrian Peterson is expected to miss 3-4 months (maybe more) after having surgery to repair a torn meniscus, many fantasy owners are scrambling to replace a guy who, in all likelihood, was RB1 on their teams. Here are five players who are available in over 50 percent of leagues (according to ESPN) that you could sign to replace Peterson on your team:
Jerick McKinnon, Minnesota Vikings
Even though he has been added in 15.8 percent of leagues this week since news of Peterson's injury broke, McKinnon is still available in nearly 60 percent of leagues - and has been named the starter over Matt Asiata by head coach Mike Zimmer. The Vikings already like to use him as a receiver out of the backfield, and when Peterson missed most of 2014 due to NFL discipline, McKinnon rushed for 530 yards on 108 carries in eight games as a rookie. Expect him to produce at a similar, if not higher, clip in the coming weeks.
Fozzy Whittaker, Carolina Panthers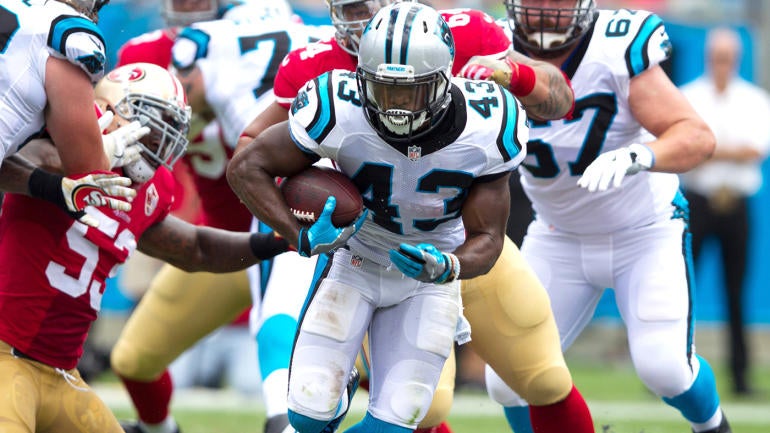 Whitaker is more of a short-term play, but he'll produce. He started last Sunday against the 49ers, and rushed for 100 yards on just 16 carries in Jonathan Stewart's absence. He'll continue to start and get most of the carries as long as Stewart is out with a hamstring injury (which is expected to be a week or two, if not more).
Shane Vereen, New York Giants
Vereen has carved out his usual role with the Giants as a third down back and reliable receiver out of the backfield, but also led the team in rushes (14) in Week 2. Starter Rashad Jennings is also dealing with a wrist injury that should cause Vereen to see more action than he already does. With his versatility, he has a lot of upside as a flex player.
Jay Ajayi, Miami Dolphins
Ajayi is expected to benefit from Arian Foster's groin injury, taking over as the lead back in his absence. He's going up against a Browns defense this week that is one of the worst in the league at defending the run, and with his production as a receiver, Ajayi could even carve out a bigger role for himself when Foster returns - if he plays well.
Dwayne Washington, Detroit Lions
Detroit placed starter Ameer Abdullah on IR today, and Washington is expected to split time with Theo Riddick in the backfield in his absence. He had a good preseason, which he followed up with a touchdown as a short-yardage back in Week 1 - and gained 31 yards on just four carries last week. He's a lesser-known rookie who could break out in the next few weeks.
Follow our Fantasy Football news page for all the latest Fantasy Football news!
Back to the Fantasy Football Newsfeed
Related Topics: Fantasy Football, Adrian Peterson, Jerick McKinnon, Fantasy Football 2016, Lions News, Fantasy Football News, Dolphins News, Panthers News, Dwayne Washington, Giants News, Vikings News, Fozzy Whittaker, Jay Ajayi, NFL News, Shane Vereen